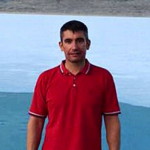 Well, that's what they told him. Michael McFeat was a welder from Perthshire, Scotland, enjoying an exotic tour abroad working in a Kyrgyz gold mine. (A literal gold mine; Kyrgyzstan's economy is largely based on extractive industries).
McFeat enjoyed the job and his mates, a mixed bag of Kyrgyz local workers and expat professionals and skilled laborers, mostly Europeans like himself. Due to dietary preferences, perhaps, there were separate chow halls for the expats and the locals.
McFeat enjoyed the exotic aspects of working far from home in a place of which his Scots family and friends not only knew nothing, but wouldn't reasonably expect to.  And one story circulated among the expats about the national delicacy, Chuchuk. Here's Chuchuk in the butcher's shop:
Errr…. what is that? And here it is, "serving suggestion."
The expatts' not knowing what went into Chuchuk led to a number of leaps of faith, bold assumptions and ribald suggestions. One of which McFeat mcfeatured in a light-hearted Facebook post:
With that, the horse you-know-what hit the fan, and the great-many-times-grandsons of fierce steppe horsemen more or less demanded satisfaction. McFeat lived to be hidden by cops (who were just about as angry at him as the lynch mob was, but determined to do their jobs) and smuggled out of the country. "And stay out!" was the verdict, as he was warned against returning for five years.
You see, something got lost in translation. Chuchuk is not horse you-know-what. It's a savory sausage made from horsemeat in a natural casing (which is horse intestine, if you didn't know).
McFeat, back with his family and safe, has since learned about Chuchuk, apologized profusely, and wants everyone to know the guys in the picture — his friends and co-workers from the mine — had nothing to do with his "horse penis" Facebook post.
Indeed, it looks like they enjoyed the treat, even if they did have some doubts about where on old Dobbin's anatomy it came from.
But this was in a class with stepping on a Thai coin (which has the image of the king on it — big no-no) or touvching an Arab with your left hand — a nuclear cultural awareness fail in the megaton range.