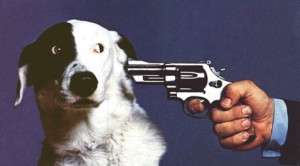 Here's a story from Waukegan, IL, a Chicago 'burb, where a lady fired a single shot, trying  to make a neighbor's dog that had jumped her fence let go of her dog. The neighbor was there, but wasn't helping.
Since then, though, she got something else: a spray of bullets fired into her house at night.
Romena Rhyan, who lives in the 500 block of McAlister Street, said she has had a hard time sleeping since bullets sprayed through her kitchen window, leaving seven holes in doors and cabinets.

According to Rhyan, the shots were fired from an alley about 1:30 a.m. on Jan. 27. That was two days after she shot a dog that was mauling her dog — both were pit bulls — in her front yard. The other dog later died, Rhyan said.

Waukegan Police confirmed details of the shots fired into Rhyan's home but would not comment further. Officials would only say it is an open case.

Rhyan said she has been afraid of hosting her granddaughter since the shooting, and her dog has seemed reluctant to venture outside or eat.
via Waukegan home shot up days after resident shoots dog – Lake County News-Sun.
Rhyan pulled her dog into the house, but the strange dog, which had leaped over her fence, was clamped on to hers.
By the time she was able to get them back outside, the other dog's owner was on her porch. According to Rhyan, the other dog owner was "tapping his dog on the head" but wasn't doing anything to stop the fight.

Rhyan said she ran back inside and grabbed her handgun, for which she has a Firearm Owner's Identification Card (FOID).
Illinois is one of a few states that requires owners of all guns, even long guns, to be registered. A Firearms Owner's ID Card lets a person buy and own, but never carry outside the home except for hunting and on sporting ranges, a firearm. It is part of a system established in the Twentieth Century, principally intended to disarm blacks who had moved to Chicago in pursuit of factory work during and after the Second World War.
"He looked up at me and I shot the dog one time," Rhyan said. "He said, 'Why did you do that?' But his dog was killing my dog. It was very traumatic."

Rhyan called 911, she said. Police officers took her gun following the shooting, but Rhyan said she expects it to be returned because she has a FOID card.

The other dog was taken to a veterinarian for surgery, but later died. Rhyan's dog suffered wounds on its face, nose, eye, mouth and a paw.
We think Ms Rhyan feels just about like we would in that situation:
"I'm truly sorry about what happened to that dog, I know it wasn't the dog's fault," she said.
Sure, we probably could have wrestled the dogs apart, but we're not a little old lady. And even for us, Plan B would be to shoot the intruder dog attacking our little dog. Sorry 'bout that. There's no such thing as a bad dog, at least not to start with, but some dogs fall into the hands of bad owners.
Something tells us the cops have a pretty good idea who shot up Ms Rhyan's house. Something tells us we do, too.