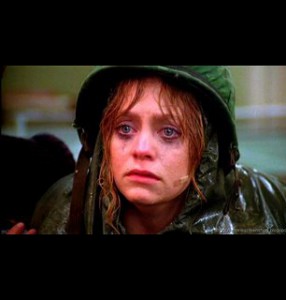 It was not announced in a press conference. It was not put on the Army's home page, and was kept off the Army's news page, and there's certainly nothing on the Army media page. But an official Army statement was selectively, furtively emailed by shifty and underhanded Honor Code failure PR functionary LTC Courtney Massengale Ben Garrett to "friendly" media, announcing that the first women will be attending, and graduating, Ranger School in April.
One of those friendly reporters, Gannett/Army Time's Michelle Tan, quoted Garrett as follows (note obligatory sucking up to the political boss):
Secretary of the Army John McHugh approved the participation of both men and women in … Ranger Course 06-15, which is scheduled to begin on April 20, 2015. The course has approximately 60 women scheduled to participate. Those who meet the standards and graduate from the course will receive a certificate and be awarded the Ranger tab.
The standards have been evaluated and will be lowered where necessary, but ALCON will deny that any standards were lowered. They are calling this an "assessment" and when the "assessment" is complete and its success is announced, they will move forward into the bright sunlit uplands of making room for the next group of "victims," those confused or mistaken about what sex they are. Such is progress in the Year of Our Lord 2015.
Coddling of the women attendees includes a pre-ranger prep course, and a shadowy sisterhood made of dozens of appointed female commissars called "observer/advisors" who are to mentor, encourage, (and not incidentally, prevent male instructors from giving failing grades to), the Unique and Special Snowflakes. The commissars do not have to attend Ranger School themselves. Good intentions suffice, and good intentions are defined by their conformity with what the suits in the E-ring, and the generals purring in their laps, desire.
In related news, the Army has a codeword for the current drawdown and layoffs: Operation Bold Shift. No word on whether PR princeling Ben Garrett was involved in that other pathetic naming decision, too, but Orwell would have made note of it.
In accordance with Operation Bold Shift, First Army's Department of the Army directed plan to reduce force structure will reduce First Army's training brigades from 16 to nine by 2016.
Bold shift, indeed. These are training units, but the "Bold Shift" — Gad, it gags us to say it — axe does not spare combat formations.
How about telling the truth, and calling it Operation Thank God There Are Still Marines? Because the Army seems to have made the institutional decision to just quit.
We told you when we first wrote of the Rangerette decision that the fix was in (we also told you that it was happening in Fiscal Year 2013. What delayed it was the Army's laggardly personnel bureaucracy more than anything. Some excerpts from that first message that are still valid:
Current Ranger graduates, Ranger veterans, and the Ranger units and Ranger training establishment were never consulted about the decision. Officers who argued against it in Pentagon meetings have already been dismissed or shunted into career-ending punishment assignments.

The RTB has not been directed that all female candidates must pass regardless of performance, and Ranger Instructors will retain a limited ability to dismiss an individual underperforming woman from the course, as long as "enough" women remain to please the higher-ups. But they will have to justify every dismissal to the highest levels of command, who have made their intention clear. Regardless of performance, the majority of women attendees must pass — at least as high a graduating percentage as the men in the same class. For the first time in Ranger history, graduation will be guaranteed — for some.
And that was before the creation of the Corps of Commissars.
Currently, the RTB closely monitors candidate performance at the school…
That post had detailed statistics about timing and causes of attrition in the Ranger Course. You may rest assured that the statistics from this course will not be made public. In fact, the attrition numbers are to be treated as classified, with only select excerpts of the numbers — whatever looks most like success — to be trickled out by the Army's cabal of oxygen thieves hordes of PR officers. As far as those actually conducting the course, this statement is still valid.
The instructors and cadre have been advised that any public statement is a career ender, and those that have spoken to WeaponsMan.com have done so at considerable personal career risk. Their input wasn't sought beforehand, and it sure as hell isn't wanted now.
Note that none of our 2012 sources are still at RTB, which is not the same thing as saying that we have no sources at RTB.
If physical fitness standards are sex-normed for the women, as Army standards overall are, and women are carefully preselected (trained up in land nav, only strong swimmers) then they can get past that initial 60% drop and have a decent chance of passing. Right now, the plan is for women officers only, and for them to have as much as a two month train-up prior to the course. If the women beat the 50% attrition rate of men, expect a publicity blitz. Some attrition means the initial 5 to 8 in the first class will be winnowed down to a publicity-friendly 3 or 4 junior-officer graduates, a number of whom are likely to be "legacies" of military families and already fast-tracked for promotion.
It looks like instead of that plan they'll have a single large cadre, officer-heavy if not exclusively officers, of women preselected for success. They will graduate in whatever percentage is preordained. And they will feel like they've worked hard and accomplished something huge, but the fix is in.