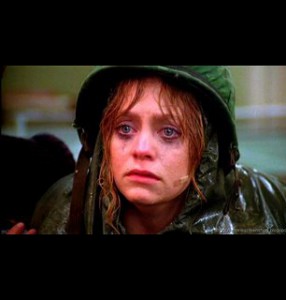 Lauren Serrano is a Marine officer, and one dedicated to the idea that women ought to serve in the ways that are best for them, and best for the service. It is clearly with great reluctance that she stepped up and touched the Third Rail of military PC these days: the women-in-combat issue. She wrote an essay about it. She submitted it to a Marine Corps Association contest. And she won 1st Prize in the "MajGen Harold W. Chase Prize Essay Contest" for her entry.
She's going to have a lot of the Sisterhood mad at her. But if a Marine officer can't take it, who can? Here's just a taste of her excellent essay:
My argument has little to do with whether women can pass the Infantry Officer Course or Infantry Training Battalion, or endure the hardships of combat. Even those select women who can physically endure the infantry are still posing a threat to the infantry mission and readiness. Female Marines who want to stir the pot by joining the infantry ranks are more interested in their careers than the needs of the Corps—they are selfish. 2dLt Sage Santangelo's recent article in The Washington Post about why women are failing Infantry Officer Course argued that "the Marine Corps needs to set women up to succeed in combat roles."2 Why? How will that contribute to a better fighting force, the needs of the Marine Corps, and the success of young enlisted Marines? The time, energy, and conflict associated with setting women up for success in infantry billets will not make the Marine Corps more combat effective.

I have no doubt that there are women who can pass initial infantry schools—and I applaud their strength. However, as Capt Katie Petronio argued in her 2013 Gazette article, "Get Over It! We are not all created equal," long infantry careers for female Marines will eventually lead to career-ending medical conditions as they get older and their bodies are unable to withstand the years of constant infantry training.3 For the already fiscally strained military, this will lead to an increase in medically retired Marines who rate medical financial support for the rest of their lives.
You would be well advised to Read The Whole Thing™ on the Marine Corps Association website. Among the other points she makes in the article:
The people who are pushing this have the least experience in the military. For example, the officers in favor tend to be green 2nd Lieutenants, and a lot of the support comes from people who have never served in the military.
Even the careerists who think this is a ticket punch they need for their imagined Courtney Massengale careers are probably wrong: the Marines (like the other services) have a lot of jobs outside of direct ground combat where good leaders are prized — and promoted.
She points out that examples like Israel and Kurdistan are not on point, because in those cases the women fight because the alternative is extermination (actually, the Kurds are a bad example, as we've seen, but she's been conned by the same PR campaign that has conned so many).
Then, there's what the military euphemistically calls, "fraternization." Our Marine's take on it:
Women in the Marine Corps are already in better shape than the average civilian and it can be assumed that any infantry woman will be a physical specimen. In the young, testosterone-filled infantry ranks, this is asking for love triangles, unit drama, and the potential for intraunit relationships. Platoon commanders in co-ed units already deal with a tremendous amount of drama, pregnancies, and sex in the co-ed unit barracks. Each time an issue arises, the platoon leadership spends a lot of time switching Marines' barracks rooms, billets, etc.
And finally, there's the involuntary side of sexual attraction, the sexual-assault and -harassment angle, something the writer has seen from a number of diverse angles.
There's a lot to read here, so do Read The Whole Thing™ and let us know in comments where you agree (or not). For our part, we strongly agree with the sentiment in Capt Serrano's essay. Note that it is that Women do not belong in the Infantry, not that Women do not belong in the Marines (or the Army, or Special Operations Forces). Because they do belong there (and she actually cites a SOF example in the essay). But there are things, frankly, that men are better at and women are better at. Infantry's mission (and that of DA-oriented SOF elements) is to close with and destroy the enemy by fire and maneuver. When women are Division 1 college football and other contact-sports players, then they'll be ready for the grunts. Not before.