Live from New York, It's Saturday Night…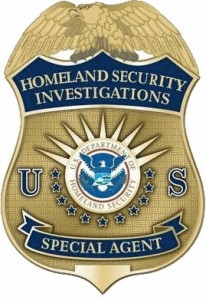 As we indicated, SAC New York James T. Hayes Jr is out. Another SAC (New Orleans, LA)  is getting an extremely well-paid, long term TDY to the Big Apple while the HQ types are vying to outdo one another at the prodigious levels of suckuppery required to land one of the agency's plum assignments, with a lot of headcount and a lot of TV exposure for the guy or gal that wants it.
By taking the position on a TDY basis, the NOLA guy signals that he's not interested in it permanently, and prevents a second feeding-frenzy for his position.
And Then There's the Friday the 13th Free Agent…
ICE Director Sarah R. Saldaña, who sees her job as turning it into the US Immigrations and Customs Non-Enforcement Agency, sent all hands the following message:
A Message from Director Saldaña
To all ICE employees
February 13, 2015

A.T. Smith Coming to ICE as Senior Advisor for Cybercrime

I am pleased to welcome A.T. Smith as Senior Advisor for Cybercrime within U.S. Immigration and Customs Enforcement's (ICE) Homeland Security Investigations (HSI). Previously, Mr. Smith served as the Deputy Director of the United States Secret Service, where he executed oversight of the agency's daily operations. In his new role as Senior Advisor for Cybercrime, Mr. Smith will bring his expertise to ICE's fight against transnational cyber criminals.

Before his service as Deputy Director, Mr. Smith served in numerous offices and senior leadership posts in the Secret Service, including: Assistant Director – Investigations 2010-2012; Assistant Director – Human Resources and Training 2008-2010; Deputy Assistant Director – Office of Investigations 2006-2008; Special Agent in Charge of the New York Field Office 2003–2006; Special Agent in Charge of the Secret Service training academy; Executive Assistant to the Director; and Assistant to the Special Agent in Charge of the Presidential Protective Division.

Mr. Smith began his law enforcement career in 1978 as a communications dispatcher for the Greenville County Sheriff's Office. Mr. Smith also held the positions of uniformed Deputy, Sergeant and Lieutenant, within the Greenville County Sheriff's Office. He joined the Secret Service on 1986 as a special agent assigned to the Miami Field Office.

Mr. Smith received his Bachelor of Science in Criminal Justice from the University of South Carolina, and holds Master of Science degrees from the University of Alabama and from the Johns Hopkins University School of Business.

Please join me in welcoming Mr. Smith to ICE.

Sarah R. Saldaña
Director
U.S. Immigration and Customs Enforcement
Notice anything missing from the résumé of one Alvin "A.T." Smith, who brings "his expertise to ICE's fight against transnational cyber criminals," in the words of the very Red Queen of  Amnesty-by-Non-Enforcement? What's missing?
Like, any previous involvement in cyber investigations or enforcement? What "expertise"? This is management by the "one waivered beltway drone is just as good as any other waivered beltway drone" standard.
But wait… "waivered"? Why did this paragon of Beltway managerial excellence, who knows less of cyber than our Aunt Mildred (and she's dead), cross the street from USSS to ICE?
It seems he departed from the Secret Service earlier this week, on account of ill health: they got sick of him. Every senior executive around him bit the dust after a series of protection and investigative fumbles exposed a culture of incompetence in the agency's top ranks. The AP reported:
Amid the upheaval at the Secret Service, lawmakers, including House Oversight and Government Reform Committee Chairman Jason Chaffetz, R-Utah, criticized Smith, saying he was at the center of bad decisions made in a series of Secret Service scandals.
Chaffetz and Ranking Member Elijah Cummings both identified Smith as a dud and a problem child, and, according to Democrat activist Lauren French, writing at Politico:
Chaffetz, now the committee's Republican chairman, began investigating misconduct. Just this week, he and Cummings — the committee's top Democrat — helped shove much-maligned Secret Service Deputy Director Alvin "A.T." Smith to the exit.

Chaffetz said he repeatedly argued during meetings with [new Secret Service Director] Clancy, DHS officials and senior White House officials that Smith, a 28-year-agency veteran, was a major drag on the agency's morale and operations.

Cummings and Chaffetz met with Clancy during a classified meeting Tuesday, which followed two private meetings in February with the White House and Homeland Security Deputy Secretary Alejandro Mayorkas. The lawmakers have two more meetings in 2015 on the Secret Service's response to the White House jumper and a shooting outside Vice President Joe Biden's Delaware home.

Chaffetz "specifically said Smith needs to go [during these meetings], and the fact that ranking member Cummings went hand and hand with him only made it stronger," said an Oversight investigator familiar with the conversations.

Smith also drew criticism for approving changes to how new recruits and officers are trained that lawmakers have complained leave the agency short of well-trained officers ready to respond to security problems. Last year, Smith also took criticism after revelations that he had diverted agents from the White House to check in on a Secret Service administrative assistant who was involved in a dispute with a neighbor.

More than two dozen whistleblowers contacted Chaffetz during the two years he's run point on the Secret Service investigation for the House — and nearly all of them complained about Smith's role, he said.
But Smith, a highly political (and partisan) animal always willing to bend the agency's rules to please his political-appointee superiors, was a favorite of DHS Secretary Jeh Johnson. (He is also closely tied to Hillary Clinton, whose patronage enabled his rise from Special Agent to Deputy Director; while he was on Hillary's detail he married into the Clinton family).
Seven other Secret Service senior executive service managers have been forced out by the 2012 prostitution scandal, a training-failure scandal, and protective failures at the White House and Blair House, the official residence of the Vice President. Smith was involved in all those failures, but he was the only one not held to account.
So Johnson played a game of 3-card Monte with Smith, shuffling him to HSI and directing Saldaña to create a do-nothing sincecure for him.  He was the only one of the top 8 at Secret Service to "fail upward." Per the AP story above:
DHS initially refused to disclose what Smith would do at ICE, saying only that he was transferring to that agency's Homeland Security Investigations unit.
Of course, they didn't disclose it because they didn't really want the guy and didn't have any earthly idea Apart from necessity, a reason for his jump may be money: rumor is, they're paying him more than the $183k (plus a car, a bodyguard team –why? What enemy would attack a guy who does nothing but screw our side up?, and a guaranteed-never-audited expense account) that he had at Secret Service. His overall compensation package costs the taxpayers over a half million dollars a year, accounted the way businesses have to account for personnel costs.
The lateral move or promotion — which it is, is not clear — came so rapidly that Smith's bio is still up at Secret Service as this blog post goes live.
Is he worth it? Not to the United States. But apparently he is to Sarah Saldaña and Jeh Johnson.
And it's not like they're spending the money on immigration and customs enforcement anyway.