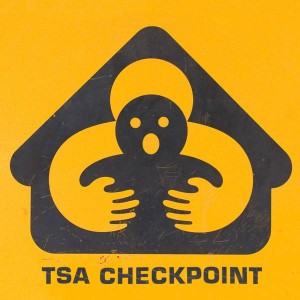 America's laziest, stupidest government agency recently took a step into heights of incompetence never imagined by Laurence J. Peter, when they declared themselves inspectors of your cell phone. Apparently they aren't fully occupied groping and fondling dwarves, and so the Devil has found work for all those idle blue-gloved hands.
If your phone won't turn on, something ours wouldn't do this morning because we didn't plug it in last night, then You Just Might Be a Terrorist™ and the mighty mongs of the TSA won't let you come home. Let the Europeans deal with your terrorist ass, and your dormant iPhone, apparently.
Travelers flying directly to the United States from overseas are being asked to turn on their cellphones and laptops before boarding their aircraft, officials said Sunday.

The security measure calls for passengers whose devices cannot be turned on — thus proving that they're real — to be denied boarding.

The Transportation Security Administration announced the added layer of security, apparently in response to reports that terrorists are designing bombs hidden inside smartphones and laptops.

"As the traveling public knows, all electronic devices are screened by security officers," the TSA said.
via TSA heightening security on cell phones and laptops | New York Post.
"Security officers." Ha. That's a laugh, for human dross recruited from the hard-left tail of the bell curve. They hire on for the promise of a few dollars, the valuables in travelers' bags, and all the gropes for which pervs hope. No one good, decent, honest, competent, moral, ethical or intelligent has ever been employed at TSA in any capacity whatsoever.