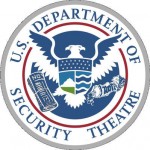 As we're prone to say, no one good, decent, moral, ethical, competent or intelligent has ever been employed by TSA in any capacity whatsoever. Which is why they're so often in the news.
They've been in the news so much lately, we can't keep up… but here's a roundup that hits some of the lowlights.
ITEM: TSA still pushing failed "Behavior Detection" schemes
The TSA no-brain trust is still promoting the Behavioral Detection Officer scheme which has never been evaluated in many attempts, except as a failure. Basically, this is based on the theory that you can take a borderline-retarded TSA drone, give him a few Death by Powerpoint or even online classes, and turn loose a counterterrorist mastermind who can see into the black hearts of travelers.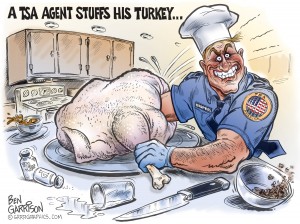 In practice, of course, it just give them one more reason to hassle random people, which task they take up with relish. As the Geico ads say, that's what they do.
We'll pull a quote from James Bovard in USA Today on 8 Jun 15:
Thousands of TSA agents continue roaming airports as part of the Screening of Passengers by Observation Techniques (SPOT) program, conducting "chat-downs" and ferreting out "micro-expressions" that signal trouble. TSA's secret checklist of dangerous traveler traits, which recently leaked out, includes yawning, throat clearing, "wringing of hands," "widely open staring eyes," and gazing down. The most ludicrous warning sign is "excessive complaints about the screening process" — probably not the first trick terrorist groups teach would-be suicide bombers. No wonder that reports by the Inspector General and Government Accountability Office found that the TSA's behavior detection program is ineffective and a waste of tax dollars.
These same proven-ineffective techniques are used by the so-called VIPER (Vanquish, Intimidate, Penetrate, Ejaculate, and Run) teams.
ITEM: As Bad as the Public Reports Are, the Classified Ones Are Worse
That's according to a guy who gets them, Senator Ben Sasse, R-KS, in USA Today:
Here is what keeps me up at night: The publicly available facts are disturbing, but the classified details are even worse. Millions of families will soon fly to summer vacations, but if moms knew what members of Congress have learned behind closed doors, they would march on Washington demanding an urgent, top-to-bottom reevaluation of airport security.
How about this? Since Federalizing airport security was never about anything but easy, overpaid jobs for the mentally and morally handicapped, and putting on a display of Security Theater, how about disbanding the TSA and sending its employees back to their group homes and halfway houses?
ITEM: Armed TSA VIPER team invades airshow
What's worse than TSA droids standing between you and the jet home? How about TSA agents tripping around randomly, with guns? Seen at the Reading, Pennsylvania warbird show last weekend:
Yes, the shirts say "DHS" on them. If you were an armed TSA agent, you'd be too embarrassed to wear a shirt that said TSA, too. But these folks are indeed TSA. (Supposedly, this VIPER team was drawn in part from the air marshals, so at least they're not a very great hazard to the public. On the other hand, what's up with putting the Secret Squirrel air marshals in pseudo-cop garb and have them throw their weight stroll around a public gathering?).
Another group of TSA mouthbreathers were dressed in all tactical tommy togs, including assault armor, sporting tactical beards, and describing themselves to adoring Civil Air Patrol cadets as "Homeland Security operators." Clue-gram for those clowns, not the two in the picture: Hey, there's a recruiting office in the Post Office downtown, you pathetic poseurs.
Fortunately, no bombs were found at the show, except for dummies in the bomb bays and under the wings of septuagenarian warplanes. And the TSA was dissuaded from blowing them in place. Of course, given the TSA's record of 3-and-67 on finding dummy bombs in their actual bomb scanners, who's to say there were none to be found? We're not ready to give this Security Theater credit for the peaceful conduct of the show.
ITEM: James Bovard, USA Today: No excuses to continue the groping
Though Transportation Secretary Norman Mineta promised that TSA would hire "the best and the brightest," TSA was soon busy issuing blanket denials in response to employee abuses. In 2004, I wrote a New York Times op-ed detailing arrests of TSA agents around the nation for looting travelers' luggage. At the time the piece came out, the TSA was adamant that baggage thefts by its agents were a minor, localized problem. A few months later, TSA announced a de facto nationwide class action settlement for 15,000 passengers who had formally complained of being pilfered by TSA agents. More than 400 TSA agents have been fired for stealing from travelers.
Or the general incompetence:
In its early days, TSA promised "no weapons, no waiting." But the agency has long since claimed a prerogative to severely disrupt travelers' schedules with unpredictable long lines. No one knows how many millions missed flights TSA has caused.

The Department of Homeland Security admitted in 2011 congressional testimony that "the large majority of travelers pose no security risks." TSA cannot admit this self-evident truth without also conceding that it is pointlessly abusing and delaying millions of travelers every day. Instead, TSA continues a "security theater" routine that is far more effective at subjugating Americans than protecting them.
ITEM: Ex-director John Pistole Praises perverted payroll patriots
In  a dreary, impassioned column in USA Today, Pistole defends and even lauds the Government's most incompetent work force:
I for one will continue to thank the men and women of TSA for doing a thankless job.
Well, no one else is doing it. For good reason, mind.
He argues that the agency's near-complete failure to detect test weapons is the result of the testers, we are not making this up, cheating. Because if there's one thing you can count on terrorists to do, it's play fair!
these covert testers have access to the "owner's manual" of the technology they're testing. They know the specific detection capabilities and can devise, construct and conceal devices that will likely evade detection. They know the standard operating procedures (SOPs) and can attempt to exploit them. And they know how TSA employees are supposed to respond to possible threat items.
Of course, if you paid any attention to Pistole's integrity during his TSA stint, you've probably already guessed: he's lying. Talking points similar to those Pistole used were distributed by agency flacks to their various paid mouthpieces, but in fact the penetration testers have been blind to the agency's countermeasures.
So why is he defending the agency? Easy. He's paid to do it.
But it's Washington, So More Domestic Spying Will Fix Things
And tying it in to the failed BDO/SPOT program, bringing us full circle.
DHS secretly videotaping citizens to 'predict crime'.
That'll end well!
And if not that, a New Figurehead Will Fix Everything
In this case, Peter Neffenger, a Coast Guard admiral. We've already had one Coast Guard Admiral as head of TSA, and Admiral Stone was a complete failure, so we should just take this guy on the theory that doing the same dumb thing will not give us the same dumb result.
TSA nominee shares lawmakers' concern about airport security – U.S. – Stripes
And Neffenger? He plans to undertake a punitive expedition against airline passengers, telling the committee that travelers need to brace for further "inefficiencies."
Vice Adm. Peter Neffenger, nominee for TSA chief, likely to face 'inefficiencies' – Washington Times
More 'Inefficiencies' at TSA Checkpoints, Dennis Hastert Was a Hypocrite, Greek Bailout Talks Hit Yet Another Hurdle: P.M. Links – Hit & Run : Reason.com
USA Today's Conclusion:
This pretty much stands on its own:
Unless officials act swiftly, passengers will conclude that the inconvenience is pointless, and terrorists will conclude that it's easy to smuggle an explosive device aboard a jetliner.
True, and true. But how can "officials act swiftly" to negate two true statements? The last time "officials acted swiftly," they created this breeding ground for corruption and incompetence. Do we really want them to do that again? Moreover, by immunizing their low-quality hires from all consequences of their own actions, TSA managers — none of them has ever deserved the term, "leader" — have created an organization with an entitlement culture, inured to public contempt and immune to reform.
To mend it, we have to end it, then. The original motto for the perverted payroll patriots of TSA was "Dominate. Intimidate. Control."  Since then, no one good, decent, moral, ethical, competent or intelligent has ever been employed by TSA in any capacity whatsoever. So we say, "Disband. Eliminate. Cancel."