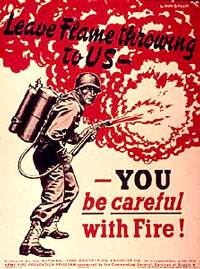 Burn, baby, burn. It's not just for 60's hippie radicals any more. Well, it's a college story from NYU, where nobody ever grew up since then, so maybe it is.
A college student is accused of setting a classmate on fire in his dorm, then singing and recording her putting out the flames.

Jaime Castano was arraigned Tuesday on assault and reckless endangerment charges.

The incident occurred at his New York University dorm in August.
Wait, what? This guy set someone on fire six months ago and he was still traipsing around free in January? What fresh hell is this?
NYU says the delay in reporting the incident stemmed from its practice to give deference to a victim's wishes to involve police. It says it's clarifying its policy so similar cases are reported immediately to police.
Ah, okay. It was some idjit university administrators, pedestaling themselves and pretending to play cop, investigator, judge, jury and executioner. That explains everything, these days.
Castano was expelled in September. His attorney couldn't be reached for comment.
Sure, because it's definitely enough punishment to be tossed out of a third-string university, when all a guy did was set a girl on fire. Totally.
Court papers say Castano's cellphone video showed the 19-year-old victim asleep with flames on her clothing.
And naturally, this depraved hominid took video of his crime. Don't they all, nowadays? How do you get "street cred" for a crime if there's no video?
The 20-year-old Castano was ordered held on $50,000 bond or $25,000 cash bail.

The victim suffered burns to her torso.
via NYU student accused of setting classmate's clothing on fire – New York News.
But hey, the president and deans of NYU thought they really showed the guy. They expelled him. And then they concealed the crime from the authorities, which is, even in New York, a fresh crime of its own.
What, are there no prisons? Are there no workhouses?
Exercise for the reader. To steal a word from John Lennon (and nicely bookend this post with 60s hippies top and bottom, "Imagine…."  Specifically, imagine that Jaime Castano shot his unfortunate classmate with a firearm, rather than burned her with an accelerant, an equivalent violent crime. Would the administrators have been so eager to act as his accessories after the fact?