We're normally cat lovers, but this has been ridiculous. And then we saw this: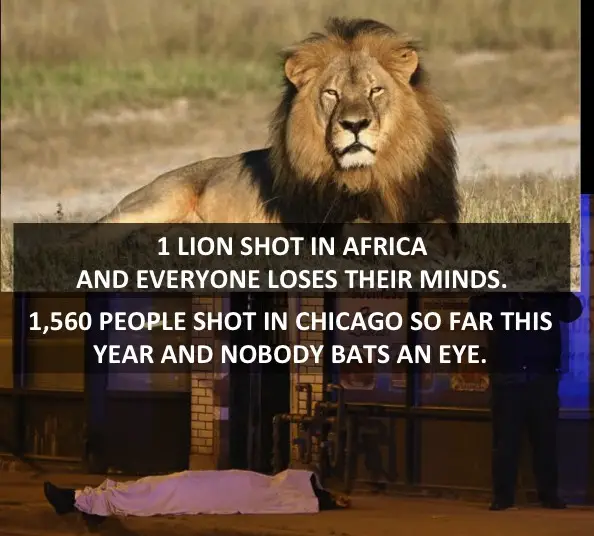 Apparently whoever photoshopped this didn't get the memo: cat lives matter. Gangbangers aspiring rappers whacking one another? Who cares? Think of it as evolution in action.
Meanwhile, back in Chicongo, where guns are (mostly) outlawed:
This year, they could break 3,000. But who cares? The media ruck and scrum, insulated as they are from the world by the Hudson and East Rivers, apparently think a wild predator typically dies in bed, surrounded by his reverent family and eased over the rainbow bridge by a tender, kindly anesthesiologist. They're busy, mourning a pussycat.
You want to end hunting? Go ahead, but it will end lions, and many other species. Hunters who safari pay real hard currency that lets otherwise poor nations spend on wildlife conservation. Plush-bottomed New Yorkers who email around pictures of lions contribute bupkus. But they signal their virtue and concern by participating in the Two Minutes' Hate towards the dentist-turned-nimrod who bow-hunted the lion.