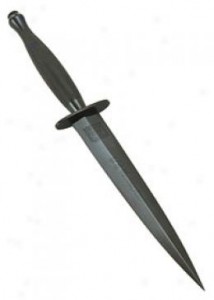 A few days ago, we used this picture of a Fairbairn-Sykes dagger to illustrate a knife attack story. (Turns out our doer used a kitchen knife, not anything so military as this Deadly Assault Knife, the Preferred Weapon of Screenwriters). But Andrew Branca, author of the Law of Self Defense and a no-kidding MA self-defense lawyer, pointed out that possession of the F-S commando dagger was in itself banned in the wacky state of Massachusetts.
A bud from Pennsylvania suggests that the Keystone State has seen Massachusetts's madness and raised it. Here's the PA state law:
§ 908. Prohibited offensive weapons.

(a) Offense defined. –A person commits a misdemeanor of the first degree if, except as authorized by law, he makes repairs, sells, or otherwise deals in, uses, or possesses any offensive weapon….

"Offensive weapons." –Any bomb, grenade, machine gun, sawed- off shotgun with a barrel less than 18 inches, firearm specially made or specially adapted for concealment or silent discharge, any blackjack, sandbag, metal knuckles, dagger, knife, razor or cutting instrument, the blade of which is exposed in an automatic way by switch, push-button, spring mechanism, or otherwise…… or other implement for the infliction of serious bodily injury which serves no common lawful purpose…..
Machetes, friends. We've seen Christ knows how many machete homicides, mostly among the recently-immigrated wing of The Diversity, and what lawful purpose is there for a jungle tool in freaking Pennsylvania?  But you can bet your last Benjamin that the state that gave us the original Benjamin has never prosecuted a violent criminal under this code. Laws like this are "catch-me, ****-me" laws meant to be deployed against non-criminals who have run afoul of officialdom.
If Pennsylvania is an outlier, Philadelphia's city ordinance is somewhere out by the asteroid belt.
§10-820. Cutting Weapons in Public Places. [180]
(1) Definition.

Cutting Weapon. Any knife or other cutting instrument which can be used as a weapon that has a cutting edge similar to that of a knife. No tool or instrument commonly or ordinarily used in a trade, profession or calling shall be considered a cutting weapon while actually being used in the active exercise of that trade, profession or calling.

(2) Prohibited Conduct. No person shall use or possess any cutting weapon upon the public streets or upon any public property at any time.

(3) Penalty. The penalty for violation of this section shall be a fine of not less than three hundred (300) dollars and imprisonment of not less than ninety days.
Laws like this are not designed for even-handed enforcement. They are designed to empower officers with great discretion, and produce selective enforcement.
Selective enforcement, once enabled, always leads inexorably to corruption.
Pennsylvania also bans body armor — and that one, 18 PA 907(c) is a felony.
(Why no links to the PA code? We're not making this up: they deliberately don't put it online. Cripes, can't have the peasants learning the law).
The sad thing is that a knife is a handy tool and an effective defensive weapon against anything but a gun, and situationally useful against an assailant with a gun, at contact range. You are better armed with a knife than with nothing at all. (And indeed, with a knife like that F-S, a V-42, or an old Applegate-Fairbairn, you can be positively hazardous to anyone except a gun wielder who keeps a distance from you).