An anti-gun group has placed stories in several newspapers describing how a select group of murderers — recent high-profile spree killers — got their guns. The point of the exercise seems to be to (1) suggest that murderers buy their guns the same was as millions of peaceable people do, and therefore (2) justify the gun-control billionaires' long-term goal of disarming said peaceable people.
The identical story with identical photographs appears in different papers under different bylines, telling you that (1) these outlets don't have a problem with third parties writing their stories; (2) these bylined reporters don't have a problem with claiming to have done someone else's work, and (3) the third parties actually preparing these stories, for which mainstream media reporters are taking credit (and pay), are not doing it for the credit (or the money, at least not directly. They're certainly being paid for their work).
Of course, if you know anything about the media or reporters, that won't surprise you. A very high percentage of stories in your local paper are more-or-less-rewritten press releases from various parties with time to spare and an axe to grind — as long as they're grinding an axe that fits The Narrative™.
Here is the story as it ran in the New York Times, credited to no less than eleven reporters and staff members:  Larry Buchanan, Josh Keller, Richard A. Oppel Jr., Daniel Victor, Wilson Andrews, Sarah Almukhtar, Alicia DeSantis, Guilbert Gates, Josh Katz, Julie Shaver and Karen Yourish. 
The covered the weapons used and purchased by a carefully selected subset of killers. Unlike the bylined reporters at Times or Slate, we're not interested in promoting these creeps, so we'll identify the location, number slain, date, date of firearms acquisition, and comments. (This is a good time to ask, again, if anybody knows of a decent table plug-in for WordPress. We'd like to improve the look and feel of these tables)
| | | | | | | | |
| --- | --- | --- | --- | --- | --- | --- | --- |
| Location | Killed | Wounded (if known) | Date | Date(s) of Firearm Acquisition | Time to Crime (days) | Firearm(s) | Background Checks? |
| Umpqua CC, Roseburg, OR | 9 | 10 | 10/1/15 | unknown | unknown | Del-Ton AR-15; Glock, S&W and Taurus auto pistols | Passed |
| Roanoke VA | 2 | 1 | 8/26/15 | 6/1/15 | 86 | Glock pistol 9mm | Passed |
| Lafayette, LA | 2 | 9 | 7/23/15 | 1/1/14 | 568 | cheap .40 | Passed |
| Charleston, SC | 9 | 0 | 6/17/15 | 4/1/15 | 77 | Glock pistol .45 ACP | Passed |
| Marysville, WA | 4 | 1 | 10/24/14 | 1/1/13 | 661 | Beretta PX4 | Stolen |
| Fort Hood, TX | 3 | 16 | 4/2/14 | 3/1/14 | 32 | Smith & Wesson M&P | Passed |
| Washington Navy Yard | 12 | 8 | 9/16/13 | 9/1/13 | 15 | Remington 870 | Passed |
| School, Newtown, CT | 27 | 2 | 12/14/12 | unknown | unknown | Bushmaster AR-15; Savage Mark II .22; Glock .40; SiG 226 9mm | Stolen |
| Sikh Temple, Oak Creek, WI | 6 | 4 | 8/5/12 | 7/1/12 | 35 | Springfield Armory XD pistol | Passed |
| Aurora, CO | 12 | 70 | 7/20/12 | 5/22/12 | 59 | Smith & Wesson AR-15, Remington 870, Glock .40 | Passed |
| Oikos Univ., Oakland, CA | 7 | 3 | 4/2/12 | 1/1/12 | 92 | Springfield Armory XD pistol | Passed |
| Tucson, AZ | 6 | 13 | 1/8/11 | 11/30/10 | 39 | Glock pistol 9mm | Passed |
| Fort Hood, TX | 12 | 43 | 11/5/09 | 7/31/09 | 97 | FN Five-seveN pistol | Passed |
| Immigration Center, Bighamton, NY | 13 | 2 | 4/3/09 | 3/1/09 | 33 | Beretta 92FS; Beretta PX4 Storm. | Passed |
These represent 14 separate homicidal sprees in which a staggering 124 people were killed and 182 injured (not all by gunfire). Note that sometimes we do not have the date of gun purchase on hand, but we know the month or the year; in that case we note the date as being the first of the month or the first of the year. Assume that any date with a 1 in it is only an approximation!
Time to crime statistics are important, and we'll have more to say about them in a minute.
Slate's nearly identical list was assembled, or plagiarized, by a single reporter (Christina Cauteruscci) and one intern (Greta Weber). (Slate also published a piece self-righteously defending the outlet's voyeuristic tendency to promote these murderers. That one was penned by Justin Peters; you can see its headline in the sidebar of the Slate story).
Both of them leave off murders that don't fit The Narrative, like some Sudden Jihad Syndrome attacks. For example, the Times deliberately excludes the Charleston, SC military-office shootings. A guy named Abdulazeez with an AK that perhaps didn't come from your corner gunshop does violence to The Narrative™, and so must suffer the heavy hand of media deletion. (The Fort Hood Sudden Jihad Syndrome shooter is included because the media remains committed to the myth that it was "workplace violence"). A California spree killer was left off, perhaps because he used an automobile as well as a firearm in his murders. (But we can only go so far in psychoanalyzing the Guardians of The Narrative™, who are in their own way as obsessive and loopy as the murderers themselves).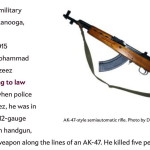 As is customary in media stories about guns, they make many laughable errors. You'll find them if you look at the stories, but the prizewinner is probably Slate's note that one shooter used an "AK-47 style semiautomatic rifle," which they illustrate with an oddball SKS, which looks like one of the cut-downs marketed by Century a dozen or so years ago. Sure, that's an AK. And call me Caitlyn.
That's typical of the lack of care and integrity displayed by dishonest reporters like these while retyping their assignments from Bloomberg's copy desk.
How These Killers Differ From "Normal" Criminals
We're not big fans of scare quotes, but criminal behavior is by definition deviant. and so criminals are only "normal" by reference to other criminals. After looking at thousands, maybe tens of thousands, of criminal gun acquisitions, certain things stand out about, say, your typical murderer versus these going-postal types.
For a career criminal, a homicide or homicides is not an entry level crime, but a culmination of a life of increasing legal deviancy.
Ergo, most murderers have one of more prior felonies, permanent restraining orders (or equivalent), or other disqualifying entries on their records, and can't buy guns in shops.
Criminals take the path of least resistance to an even greater extent than the normal exemplar of Homo sapiens. Therefore, they go for firearms the same place you might go to for, say, lawn care advice, to their normal informal social networks.
Most crime guns are acquired by purchase or barter from friends or family. Criminals' girlfriends are a particularly fruitful source; except for some pockets of check-kiting and insurance fraud, they tend not to be as criminal as their men.
Before being acquired by their ultimate criminal who will lose them when murdered, at a crime scene, or in a police search, the bulk of  crime guns circulate for some time in a black market.
Our best guesstimate is that about 80% of murder weapons come from this black market, about 15-18% are straw-purchased to order for criminals (although seldom with a specific planned crime in mind), and the balance are stolen to order or acquired by the end-user criminal directly from the thieves.
ATF's median time-to-crime figures for most states support this analysis. We'll look into this in depth below.
Meanwhile, the spree killer is a different animal entirely.
Murderers are, in the main, career criminals. Spree killers have seldom been in serious legal trouble. (Lots of them were weird or creeped people out, but the vast majority of weirdos never kill anybody, so weird is not a useful indicator any more than buying a gun is).
Murders are conventionally the nexus between something inconsequential and a violent person with poor impulse control. The spree killer plans his attack for months or years.
The goal of a conventional murderer is to kill somebody. The goal of a spree killer is to make a statement, often stated as, "get on TV." In this, he's more like a terrorist.
Murderers tend to be, let's not sugar-coat this, stupid. They let rage or an ill-thought-out "perfect crime" lead them into a path which never ends well for them, although they don't usually wind up as dead as their victims — just locked up.  Spree killers may be just as full of rage as your average PO'd crack dealer, but they tend to be above average in intelligence. Many of them are smarter than the cops pursuing them and the reporters writing about them, not that intelligence makes them good people. They are likely to be systematic and plan their crimes for a long time (often, for maximum media impact). It's commonplace for cops to find plans, spreadsheets, and statements of admiration for previous spree killers, after the fact. Spree killers frequently write self-important manifestoes. For an example of planning, some of them waited out state waiting periods for firearms.
Murderers usually act in the heat of the moment, spree killers plan their crimes in detail, often fantasizing in obsessive detail (based on movies, video games, and the media reporting on the others they emulate).
Murderers expect, however unrealistically, to get away with their crimes. Spree killers have no such illusions and usually plan to kill themselves when confronted by police or armed resistance.
A "regular" murderer is less likely to be socially isolated, so he can do things like have a girlfriend straw-purchase a firearm for him, or acquire one through criminal associates who (however unwisely) trust him. A spree killer is isolated, even in the midst of family, workplace, or school, and never has a girlfriend or anybody who trusts him that much. So he has to keep his nose clean, legally, and acquire his weapon legally; or, as in two of the Times's cases above, he steals them from someone he knows who owns them — in one case, his father; in the other, his mother, after murdering her with four shots to the head from a .22.
What TTC Tells Us
One statistic ATF officers like to monitor is time-to-crime. A short TTC may be an indicator of criminal trafficking, or of guns purchased with intent to commit crime. Although the media myth is that guns move very rapidly through legitimate commercial channels into illicit ones — honoring the media's belief that crime is best attacked by attacking peaceable gun owners — the actual numbers are different.
ATF is, probably in interests of ensuring their continuing lobbying cooperation with anti-gun groups, somewhat hinky about releasing all of this data. But they do release national numbers (.xls) and a selection of state numbers, from which you can work backwards and try to build your own crosstabs if so inclined.  (These are 2014 data. Previous data may also be found here on ATF's website).
By using percentages in public releases, ATF elides the fact that many states just don't see enough guns traced for the law of large numbers to attach and give us faith in the power of statistics; small states have only a few dozen traces. ATF also made powerpoint slides for each state that they use in press conferences and roll into .pdfs; for example, here's one from New York (where there were almost 5,000 attempted and almost 4,000 successful traces).
We'll break that out for you (bearing in mind the percentages get more wiggy as the data set gets smaller):
| | | | | |
| --- | --- | --- | --- | --- |
| Period | Number | ATF percentage | Cumulative | in period |
| < 3 months | 134 | 3.0% | 97.0% | with a TTC under 3 months |
| 3 < 7 months | 89 | 2.0% | 95.1% | with a TTC under 7 months |
| 7 m < 1 year | 131 | 2.9% | 92.2% | with a TTC under 1 year |
| 1 to < 2 years | 313 | 6.9% | 85.3% | with a TTC under 2 years |
| 2 to < 3 years | 235 | 5.2% | 80.1% | with a TTC under 3 years |
| 3 years and up | 3632 | 80.1% | 0.0% | |
| | 4534 | 100.0% | | |
(Note: this total number doesn't gibe with NY totals the ATF reports elsewhere. Get used to that).
These numbers should be discouraging to anyone who wants to make a meaningful intervention against crime at the point of legal sale of the firearm.
The ATF national average Time-to-Crime in 2014 was 10.88 years, suggesting that most guns do not move quickly from legal commerce to illicit commerce to police recovery. (New York's was longer, at over 14 years; and as in all states, most crime guns in New York were last legally sold in New York). Only three jurisdictions (Arizona, Puerto Rico and Wyoming) took less than 9 years (and always over 8.5). Relatively few of these firearms were recovered in homicides, and it's impossible for us to break out the homicide guns from the others; the ATF could release the data allowing this, but they don't.
The spree killers are clearly not average. Their time to crime is, on average, less than half a year. Given that spree killers are planners, not improvisers, it seems that they, unlike many other criminals but much like many other suicides, often do acquire the firearms after the idea of the killing has formed, and with specific intent to use the gun.
The difficulty lies in this: how do you tell the spree killer from any other guy buyer without a prior criminal record? Without a Stasi-level surveillance state, you don't; and if you want to see what a Stasi-level surveillance state looks like, imagine the employees of the TSA or Registry of Motor Vehicles as secret police. And even if we did accept a Stasi and if it was efficient, it would still be stymied by these guys, by them using the simple expedient of keeping their plans to themselves. Which is, you may note, no particular challenge for a socially isolated individual.
Update
Many media reporters are so committed to The Narrative™ that they seem intent on altering the facts to fit. Consider this picture of a recent spree killer, left is as he posted to social media, right as the TV presented him, after a photo-shop "race lift." (Reportedly on CNN, but CNN's Brian Stelter hotly denies this).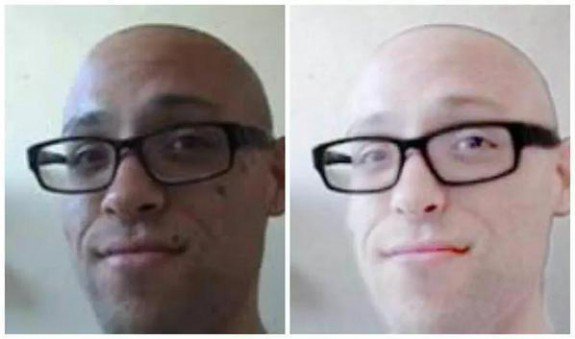 The Los Angeles Times also presented this particular shooter, who was, like the President, the child of a union between one black and one white parent, as a — we are not making this up — "White Supremacist."  Because that's what The Narrative™ says he must be, and working for the LA Times, you are expected to believe twelve impossible things before breakfast. (If the Times wises up and deletes that unsupported statement, there's a screencap here).