We've covered the SIRT training pistol before, but such a successful market was probably not going to be neglected by Glock forever. In fact, Glock has introduced several versions of training pistol, most of which are available only to LE/military customers, so far. They can all take rail-mounted accessories or aftermarket sights without trouble.
Cutaway Pistols
Cutaways are used for teaching how a firearm works and are useful for training both users and armorers. Sure, an experienced armorer has no problem visualizing what's going on inside a simple machine like a Glock 17, but seeing it in front of his face brings him to that threshold of knowledge sooner.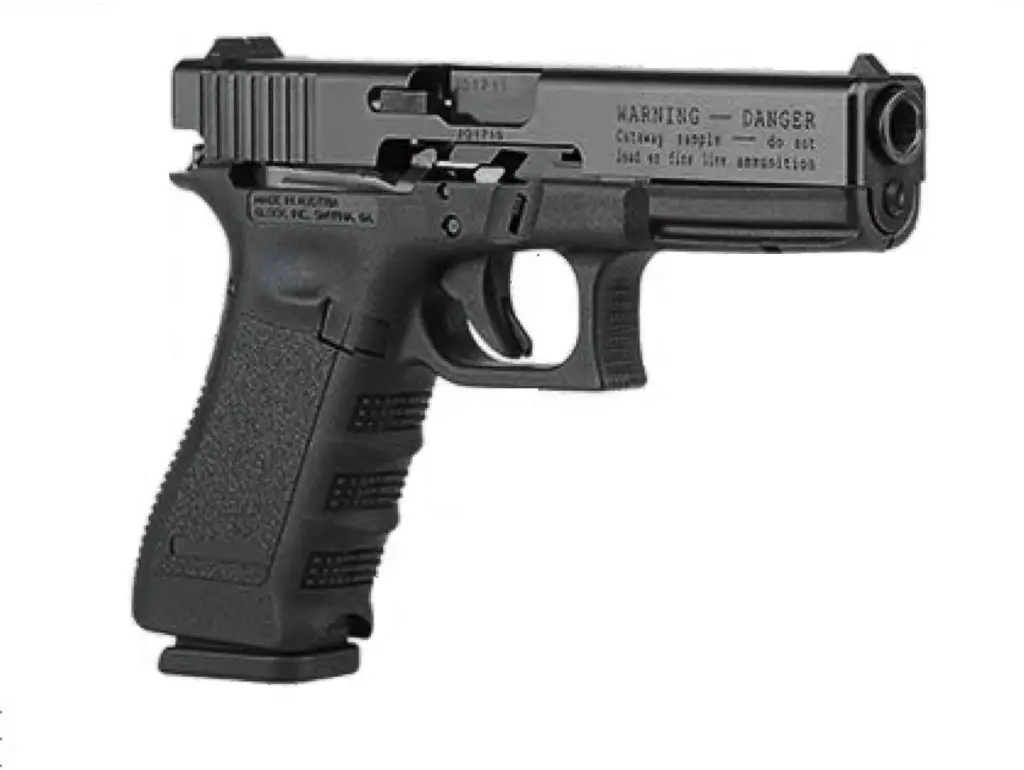 Here's what Glock says about these:
GLOCK cutaway models are produced for technical and firearms training. These models are always a main attraction at training classes, presentations, and tradeshows because they clearly illustrate the ingeniously simple internal mechanisms of the GLOCK pistol. They are sold exclusively to law enforcement agencies.
Cutaway pistols in are available in the following models:
Gen3 – G17, G19, G20, G21, G22, G23
Gen4 – G17
Glock T FX Training Pistol
This is a special pistol for use with nonlethal Simunitions® FX 9mm marking ammunition for training, including kinetic training and force-on-force. It is available to LE and military customers only. As the Sims come in essentially a single caliber, there is only one standard catalog Glock T FX, the Glock 17 T FX.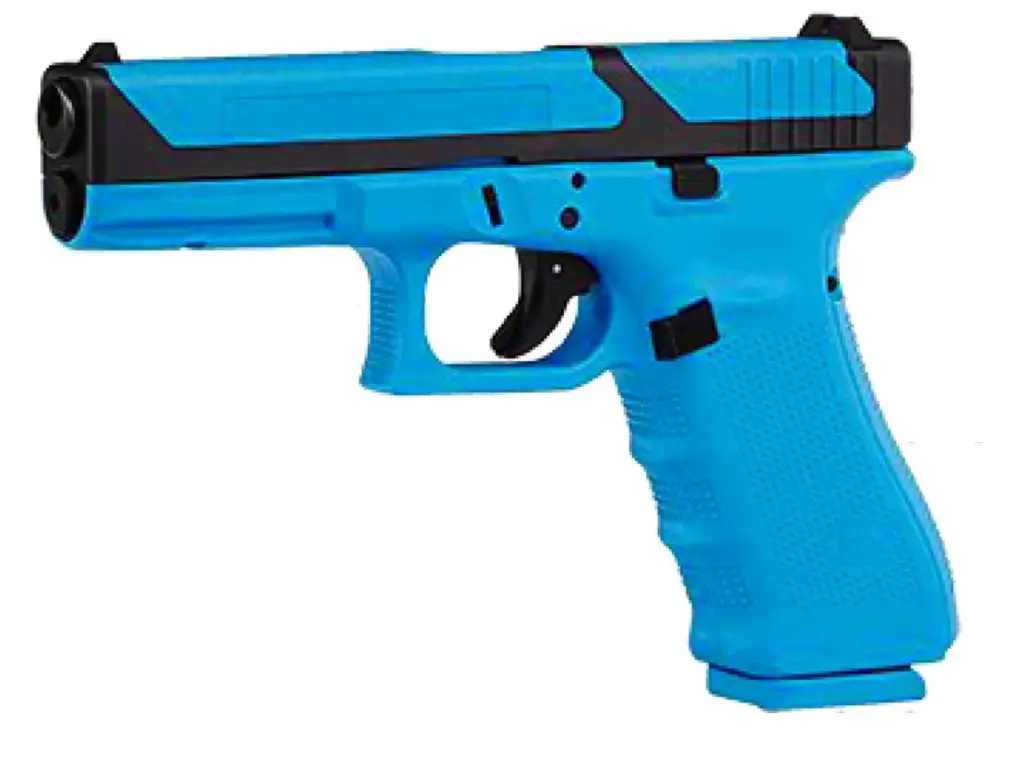 As is customary with Simunitions guns, the 17 T FX Training Pistol functions on direct blowback. The blue parts of the slide are polymer inserts to reduce the slide weight and permit the pistol to cycle with the low-powered, light-weight training rounds.
Here's the Glock factory description:
Over the years, Police, Special Units, SWAT, and Military units around the world have proven that static shooting training, combined with simulated shooting training, produces the greatest benefits. The GLOCK Training Pistols were developed with the purpose of enabling reality-based tactical operations training using color marking or plastic projectile ammunition.
Simunitions, Inc., now a division of General Dynamics Canada, has also long furnished conversion kits and dedicated training weapons on Glock as well as other platforms.
Glock P Practice Pistol
The Practice Pistol, here a G22P, fires neither Simunitions nor live ammunition. It's simply a trainer, designed to impart mechanical skills to those new to handling Glock pistols.  It can be loaded, unloaded, disassembled and assembled, holstered and dry-fired like a regular Glock, but it can't chamber or fire live ammunition.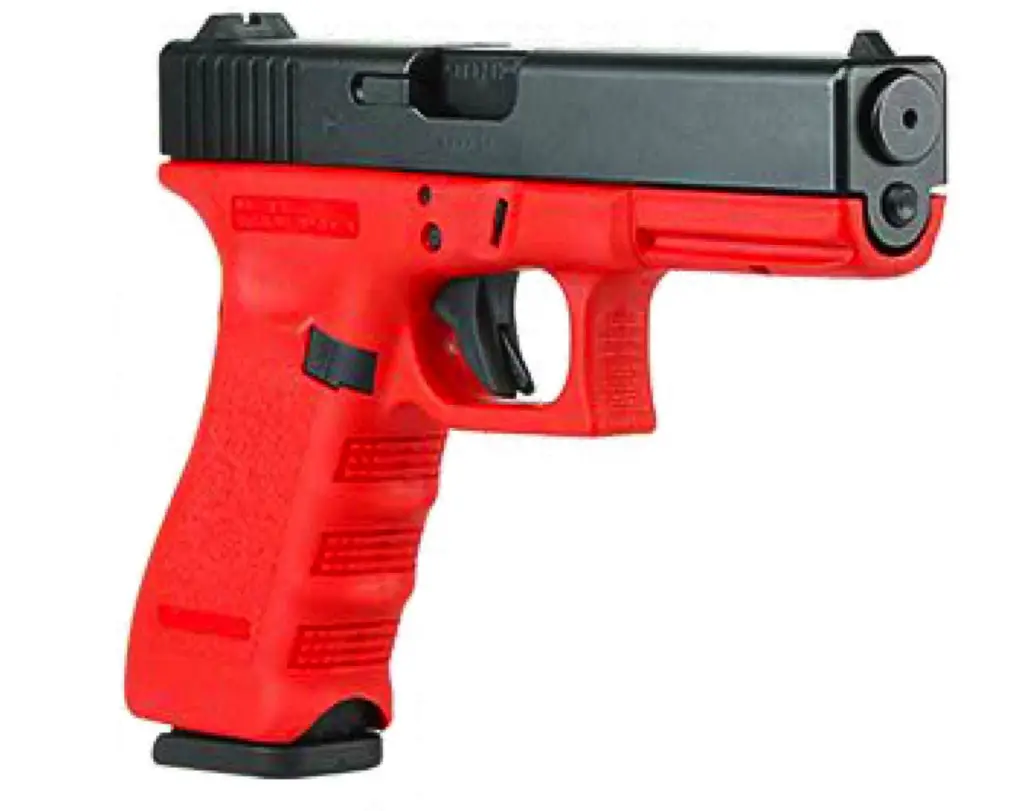 Here's the Glock rundown:
Loading magazines, sight alignment, trigger squeeze, and disassembling are all part of a shooter's training routine. The GLOCK Practice Pistol was developed to eliminate dangerous scenarios during training exercises. Identical to a GLOCK pistol in handling, weight, size, and balance, it puts the real thing in your hand, without any firing capability.
Glock R Reset Pistol
The Glock Reset Pistol is their answer to the Next Level Training SIRT trainer. It's not as complete, requiring the trainer or organization to source a separate laser module, but it is from Glock, meaning organizations can (and do) bundle it into their pistol bid.
Glock says this about that:
The GLOCK Reset Pistols automatically reset the trigger without having to manually manipulate the slide. They enable safe, practical training when used with a shooting simulator. An aftermarket, laser impulse generator can be integrated in the barrel, and when pulling the trigger, the firing pin will activate and register a virtual hit on a simulator screen.
The "aftermarket lasers" they're talking about are things like the Laserlyte cartridge laser.
Hat tip: a friend who sent us to the anti-gun gun magazine, Recoil, which had a story on the Glock trainers that got us interested in looking them up.