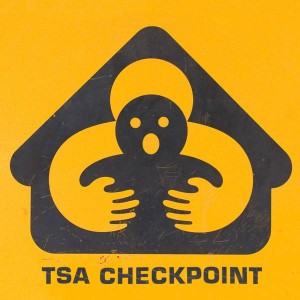 We know, kind of a dog bites man story. The TSA has failed at everything, and it's really no good at anything, except turning welfare bums into an angry and corrupt version of Paul Blart, Mall Cop. But from time to time some other branch of government investigates some aspect of the TSA's work, in this case their Behavioral Detection Officers. Red-on-red ensues.
A BDO is an 82-IQ TSA guy given some pop-psychology training in spotting terrorist "tells," who then goes out and harasses the traveling public with his insta-expertise. In this case the investigating agency is the amusingly named Government Accountability Office, which always strikes us as something like a Whorehouse Saving It for Marriage Office. The GAO report to Congress is here. The underlying and larger GAO Study is here. The bottom line, per GAO, is that per the psychological state of the art:
[T]he ability of human observers to accurately identify deceptive behavior based on behavioral cues or indicators is the same as or slightly better than chance (54 percent). GAO also reported on other studies that do not support the use of behavioral indicators to identify mal-intent or threats to aviation.
This caused a small splash in the corners of the media that are not in love with the TSA. Some media adore the agency, simply because it's a welfare program for the mentally deficient that swells the ranks of government worker unions. And others dislike it, for the same reasons. For example, the Washington Times:
Government investigators said Wednesday that there is little evidence to show TSA employees are able to pick out potential terrorists by profiling behavior and that the agency may be wasting hundreds of millions of dollars on the 3,000 officers hired to do so.

TSA Administrator John S. Pistole is scheduled to appear before the Homeland Security Committee on Thursday to talk about the recent shooting at Los Angeles International Airport. [Ranking Member of the Committee Bennie] Thompson said the agency chief will have to explain why he thinks the behavior money is well-spent.

Desperate to preserve the program, TSA defended the research and said its own study shows its officers are "substantially better at identifying high-risk passengers than a random screening protocol."
The TSA Peepers and Gropers Union wanted Pistole to ask for law enforcement credentials and guns for their mouth-breathing members, but he didn't.
The Times's analysis of the GAO paper is OK, so Read The Whole Thing™. But you also should read the whole paper, both to get a sense of the problem in depth (it's only 14 pages, but that's much longer than the précis that can be jammed into a news story — or a blog post, for that matter), and because the Times missed something big.
Some or our take-aways from the report:
Every boondoggle needs an acronym, and this one is SPOT: Screening of Passengers by Observation Technique. (Down, Spot. Bad dog).
"TSA has expended a total of approximately $900 million on the program since it was fully deployed in 2007." Emphasis ours: this is a billion-dollar boondoggle.
"TSA deployed the SPOT program without validating the scientific basis for identifying passengers who may pose a threat" – a 2010 finding that's unimproved in 2013. (Link to the 2010 GAO report, which is not as negative as the new follow-up).
"[T]he SPOT program lacked performance measures." (2010, again).
The ace BDOs identified thousands of "threats to aviation" with their mad psyop skillz, of whom actually 0.0% turned out to be actual threats to aviation. 0.6% of the "threats" they flagged wound up being arrested, but usually because the individual was an illegal alien, had bogus documents, or was wanted on outstanding warrants.
A mere 99.4% of the travelers singled out for extra harassment using this methodology were BDO/SPOT false positives.
The rate of arrests varied enormously from one airport to another, indicating a lack of standardization, but no airport had higher than 17% of law enforcement referrals (a second stage referral) arrested. The airports with the higher rates of referral are suspected of using racial profiling to find their higher share of illegal immigrants and false documents.
Not all these findings were caught by the Times, and some of them are certainly shocking. But the Times's reporters also missed, or at least, didn't emphasize ,the finding that was, for us, the bombshell of the whole piece. It relates to the TSA's "own study" the Times mentions above, and the GAO says:
GAO found that DHS's April 2011 validation study does not demonstrate effectiveness of the SPOT behavioral indicators because of methodological weaknesses.… Specifically, as GAO reported in November 2013, these weaknesses include, among other things, the use of potentially unreliable data and issues related to one of the study's outcome measures.
Let us translate that for you: DHS's April 2011 study, which was made in response to, and purports to contradict an earlier GAO report critical of the Behavior Analysis Officer boondoggle, was a false, misleading report.
Now, it might have been deliberately false. And it might have been simple incompetence. With DHS and TSA, it's hard to pick one over the other.
We do know this, and have frequently said so: Not one good, decent, honest, moral, ethical, intelligent or competent individual has ever been employed by the TSA for any purpose whatsoever.
As the non-reaction to the 2010 Government Accountability Office report shows, there is no accountability in government, and there won't be this time, either, unless Congress takes action (so we could probably have left out all from the comma before "unless," right?)  But there still is a faint hope. Zeroing out the funding for this wasteful, disruptive, and ineffective project, as Rep. Thompson (D-MS) wants to do, is a good start.