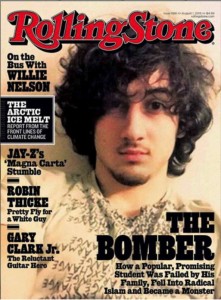 This isn't exactly a shock to anyone with brain stem function, but Dzhokar "Flashbang" Tsarnaev was found guilty on the charges that he faced in connection with his mass murder at the Boston Marathon in . There were 17 counts that carry the death penalty. Of those, Flashbang was found guilty of 17. There were 13 counts that do not. Of those, Flashbang was found guilty of 13.
Yep, that means you're convicted of everything. Lots of good that dream team of lawyers did you, eh? But then, Flashbang, you weren't paying them, were you?
Rule #1 for freebies: if you're not paying for the product, my simple self-immolator, you are the product. You just starred in endless hours of lawyer advertising, which you thought was your defense.
Sorry about that.
Nah. Not sorry.
His next date is with the same jury, who get to decide whether he gets life in prison, or just life in prison until his appeals run out, when he'd then get put down like a rabid dog. Dulce et decorum est, eh. The answer would be self-evident but we are talking about a Massachusetts jury here.
As always in an actual terrorism case, media purveyors of false equivalency were hardest hit.
Writers and editors at Rolling Stone, where the entire staff are rabid Dzhokar fans, are so shaken that they had to take a break from fabricating their next rape story.
Some alternate Rolling Stone covers after the jump.