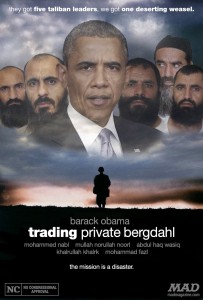 Who was it that turned up in a raid on an industrial pot facility? Everybody's The President's favorite deserter1, who's supposed to be in the jug awaiting trial for desertion, turned up in a massive marijuana raid in California.
The cops looked to return the peripatetic accused to his military base, only to get a "don't bother" from military officials.
The Unique and Special Snowflake™ whose desertion to the Taliban led to the loss of a half-dozen lives of loyal Americans looking for him, as he gave them aid and comfort, wan't AWOL at all. Knowing how Special he is and how much people in High Places prefer him to the usual ruck and scrum of enlisted swine, he'd been basically told, in that favorite phrase of sergeants everywhere, "You've got nothing to do. Don't do it here." The authorities knew he was in California and were cool with it.
Bergdahl was visiting with "old family friends" who apparently just happened to be hemp-huffing hippies. We hope this doesn't shake your faith in Taliban-Americans.
Meanwhile, the President finally got around to putting flags at half-staff for the Chattanooga jihad victims, although the Partisan Political Police that are the FBI still express utter bafflement at the shooter's motivations. Several commentators have been very critical of the President's reluctance to memorialize the deaths of service members, something he does not like very much, at the hands of an Islamic nutball, something he seems much more kindly disposed towards.
Who's saying he lowered the flags for the victims? Maybe he did it for the shaheed, Mohammod Abdulazeez.
Note
Yeah, the court hasn't convicted him yet. But we have.