Here's some good Class 3 stuff from a single dealer on GunBroker. It feels like a single collection of Colt weapons being liquidated, but in any event five of the six firearms he's offering are rare Colt machine guns. (The sixth is an ordinary Sig M400 AR).
In chronological order, they are:
Colt BAR R75A Machine Gun RARE
Here;s what the vendor says about it:
Up for bids is something you don't see everyday. A Colt BAR R75A. Next to the Colt Monitor, it does not get more rare when it comes to BARs. This one was made with a quick change barrel, and pistol grip. It appears to be unfired! I can not guarantee that, but it is in excellent condition – especially for its age.
This weapon is in my inventory, on a form 3 ready for a fast transfer to your dealer. Can be transferred on a form 4 if purchased within PA. Will ship with one twenty round magazine. The last R75A that went up for sale 8 years ago sold for $85,000. I am starting this auction 20K below that.
We;d observe that, rare as it is, it is less in demand than a GI style BAR. It, and the FN MOdel D, are probably the best BARs for someone into the "shooting of" rather than the "history." Of course, if this thing really is unfired, it probably won't be shot by its new owner.
H&R M16A1 US Property Marked Machine Gun
The Pennsylvania dealer selling these weapons has a "rare" M16A1 variant — only a couple hundred thousand were made! But two other things make this A1 rare — its minty condition, and its availability as a transferable MG.
There were some 246,000 rifles made by H&R under the contract.  The serial numbers ran from 2,000,000 to 2,246,000 (approximately). Serial numbers through 2,999,999 were reserved for H&R but never used. This shows this rifle (2,244,611) to be one of the very last H&R military firearms. The numbers  Relatively few made it from GI status (as this one was, with its PROPERTY OF US GOVT rollmark) through the po-po to the NFA Registry before the 1986 cut-off on new machine guns. Here's what the dealer says.
Up for bids is a new, unfired Harrington & Richardson M16A1. The H&R M16A1s are one of the rarer variants, and do not pop up often. Has the "Property of US" roll mark. Still has the plastic red cap on barrel. Will ship with the original twenty round magazine. Gun is in excellent condition.
The pictures (many more at the link) show that he's not exaggerating the condition. The gun is as new in all respects, including complete lack of the usual military acceptance stamp in paint, or any indicia of an arsenal rebuild. It seems to have gone right from the Worcester, Mass. factory, to a GI warehouse, to someplace whence it could get on to the registry, without passing through the usual GI abuse.
It  was made during the single batch of contract M16A1s made by H&R during 1968-70 and appears in all respects to be a "time capsule." Note the mix of solid and dimpled takedown pins.  It's invisible in this picture, but in one of the others you can just make out that the upper receiver has casting flash on the front and rear outside surfaces of the carrying handle, something that is absent from Colt-made firearms.
Colt AR15 Model 639 Machine Gun New
This is a type that also exists in very small numbers on the transferable market. It is the commercial market version of the XM177E2 Submachine Gun, the most successful first-generation Colt "carbine," and the direct forerunner of the M4 series.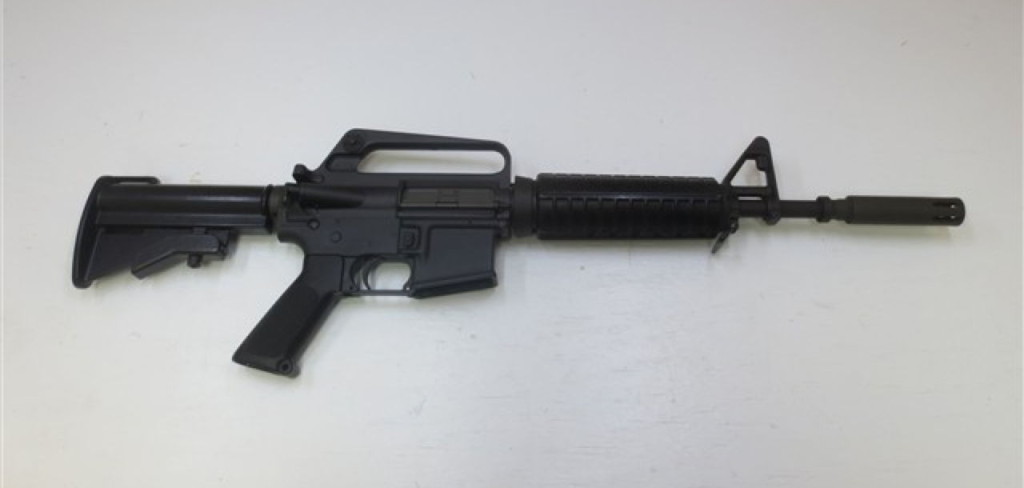 The vendor says this about it:
Up for bids is a rare Colt Model 639 Machine gun with registered matching flash enhancer/suppressor. This gun is in new, unfired excellent condition. These guns don't pop up often, especially in this condition. Would make an outstanding investment.
Colt M231 Port Firing Machine Gun NIB US Property 
This transferable rarity has not much practical use — as the later, more common, version of the M231, it's completely without any stock (it was meant to lock into swivels in a Bradley) or sights (it's aimed with tracers, like a fire hose). It has a fire-hose rate of fire, too.
The vendor says this about it:
Up for bids today is a rare find. A brand new Colt M231 Port Firing Gun with US Property roll mark and government inspectors mark. M231s are one of the rarest variants in the M16 platform on the NFA registry. Fires from an open bolt at around 1100 RPM! Has threads in the forearm to screw into a firing port on the side of the Bradley Assault Vehicle. This is a transferable machine gun, and a great investment. It has had one owner since it left the Colt factory. … Will ship in the original box, and a thirty round magazine.
This next picture shows a US Army acceptance stamp, missing from the M16A1 above but present on this M231. It is the white paint marking on the front of the magwell.
For plinking, an 1100-rpm open-bolt subgun with no sights has its joys, but the earlier wire-stocked version is a little more practical (or a little less impractical, maybe). Of course, a gun like this is more likely to be kept in its unfired condition by a doting collector than taken to the range to burn off your excess Wolf 55-grain.
The M231 is a unique American combat weapon,  a true oddity that has even been phased out, almost, of mech-infantry service (most of the firing ports have been removed from the vehicles to accommodate other improvements).
Colt RO633 DOE Sub Machine Gun SMG RARE
This is another one that is extremely rare, at least, in a fully-transferable state. It's a special ultra-compact Colt 9mm SMG made to compete with the MP5K for the affections of the tactical teams guarding sensitive nuclear site. The R0633 won out, no surprise if you've shot the K a lot, but was never produced in large numbers.
Up for bids is something you don't see everyday. This is a factory Colt DOE 9mm RO633 sub machine gun. As you know, the RO635 is the full size SMG. There are only a few hundred transferable examples of these on the NFA registry. There are less then 6 transferable DOE RO633 examples. This is truly a rare gun, that you may never see again. Will ship with one Colt 30 round magazine and factory box.Pr maube an unfired MG is really worth 150% of what a fired example goes for?
Most of these would be a fine stand-alone centerpiece to a Colt or US martial or LE arms collection.
None of the guns (not even the M400) has drawn a bid. In our opinion, the seller has placed the opening bids too high for the market.
And for people who wonder about past GunBroker exotics posted here, that one guy is still flogging his Johnson. People must be clinging to their cash reserves in an election year.