This really happened on an indoor range. A (presumably nearsighted) elderly gentleman got his pistol stuck just barely out of battery. The gunshop guys rodded the gun to clear the jammed round… only to find out that it was a battery that was out of battery.
Yep, that's an Energizer, all right, probably in his gun bag to power a gun light, that instead got crammed into a 9mm mag in between 9mm rounds. And so much for truth in advertising: instead of keeping "going… and going… and going," the S&W M&P stopped, hard, when it got to the battery… unable to quite force it into battery.
Here's a close-up, again, after rodding the stuck "round" partway out: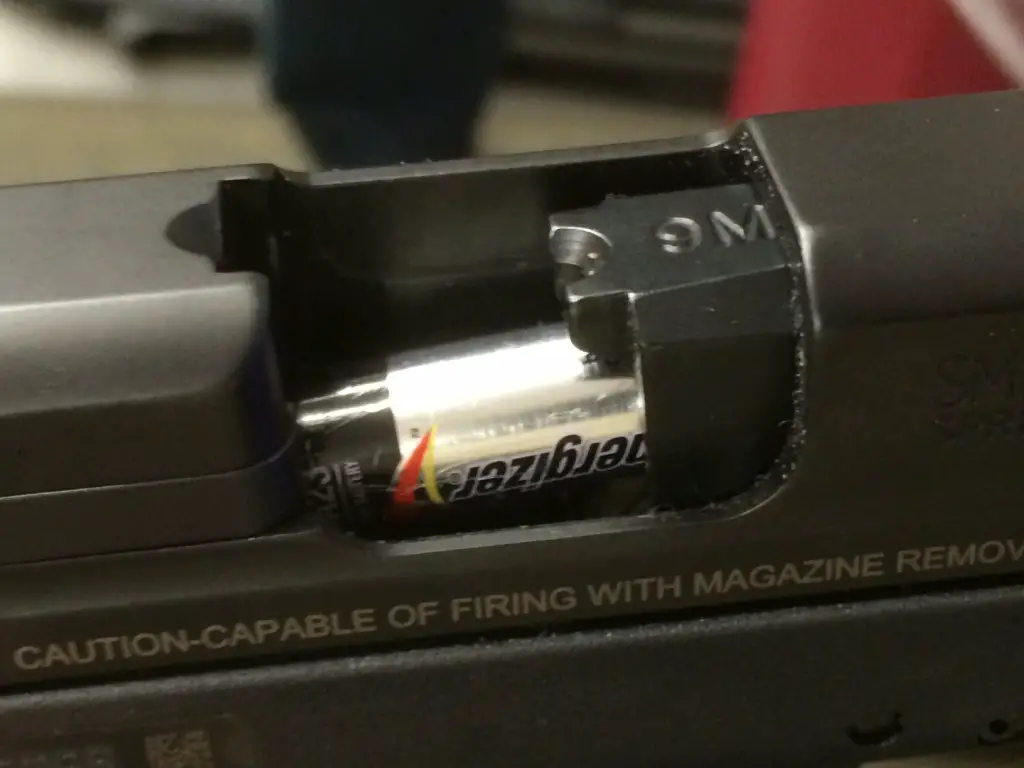 Doing this on the range is embarrassing, but doing it in a gunfight could be terminal.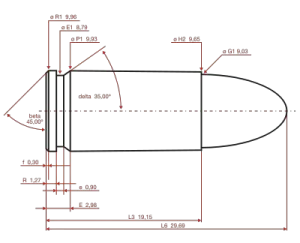 The battery is an A23, a compact 12v battery (.pdf) used in a lot of weird places like gun lights, red-dot sights, and garage-door remotes. It's a manganese dioxide-based battery made up of 8 small cells in series, and it's from 9.7 to 10.3 mm in diameter, and slightly shorter length overall as a 9mm round at 27.5 to 28.5. As you can see from the image on the right (which shows the European CIP max dimensions), the A23 is destined to get stuck outside the chamber if its diameter is on the high end of tolerances, or somewhere down it if it's near the lower end.
On the other hand, it might have gone all the way in to a .40 S&W chamber, as you can see on the image to the left (again a Euro CIP max-dimensions diagram. It seems likely an A23 would drop all the way in a .40 chamber. As batteries generally lack extraction grooves, it could be an unacceptably tense moment or two in a real-world gunfight. So it's just as well that our visually-challenged gentleman selected the parabellum instead of the .40.
In this case, no permanent harm was done to the gun, the battery, or any personnel or installations. The battery was extracted, a bit beat-up perhaps, and the pistol had no problem going back into battery, without the battery. Presumably Mr Magoo then returned to the range.
And you know the ROs keep a bit of a closer eye on him, now that they know he sees no lights a-flashing, he plays by sense of smell.
The shop worker notes, "You work at a range long enough though and you see all kinds a stupid stuff."
Hat tip, this thread in /r/guns and the photos from the original poster there, on imgur.