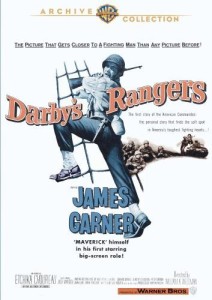 The Pentagon, 1942. Staff officer William O. Darby, a West Point grad from Arkansas, is gratified that his idea for an American version of the British Commandos has been accepted by important generals. But there's a problem: they've shortlisted a few men for command, not including him. So — in the movie, at least — Darby's first battle is to win command of his brainchild.
Then, the combat begins. (Well, actually, first they have to train under the British commandos… and most of them seem to win the hearts of local Scots ladies, sometimes, to the chagrin of their husbands).
This story of the Rangers of WWII — the first American Army regular unit to bear that name since the French and Indian War, although the Rebels had had "Ranger" elements — gets an entertaining, if highly fictional, treatment in Darby's Rangers. 
Acting and Production
This was James Garner's first big-screen role — Darby was supposed to played by Moses Himself,  Charlton Heston, but Garner was promoted from a supporting character into the Darby role. He is better remembered today as a TV actor, but did a credible job here. Of the other actors, most noticeable is Jack Warner as the Yiddish-wisecracking Master Sergeant Saul Rosen, a fictional character, as is almost everyone in this production except Darby and the generals he reports to.
The director, William Wellman, is one of the greats of the mid-20th Century — he won the first Best Picture Oscar (for Wings, a 1927 silent WWI film). He was dragooned into filming Darby's Rangers as the price of filming his personal white whale, Lafayette Escadrille (which may be the military unit with the greatest number of disappointing films made about it, actually). Wellman was actually a Lafayette Escadrille veteran, and he hated that film enough after Jack Warner monkeyed with it that he wanted his name taken off (he didn't say that about Darby's Rangers).
The movie was shot on a budget and it shows, with second-rate black-and-white cinematography and many sound stage scenes, mixed with archival footage, here and there.
When the crew did venture out of doors, let's just say, it's uncanny how much exteriors in Scotland, North Africa, and Italy all look like Southern California.
The one thing they did do, though, was make the sets remarkably reminiscent of what photos of the target area looked like at the time — for example, in the Life magazine photo at left.
Parts of the training scenes, including the slide for life and the mountaineering scenes, appear to have been filmed at the Army's Ranger School in Ft. Benning and Dahlonega, Georgia.
Accuracy and Weapons
Since, when they shot this movie, the current arms of the US Army were the same ones used by the original Darby's Rangers, the American weapons are mostly accurate. There are some exceptions. Sharp-eyed carbine fans will note that the Rangers have 1944-45 vintage carbines with bayonet bands, etc. in 1942 and 1943. The Tommy Guns are the correct early-war M1928s.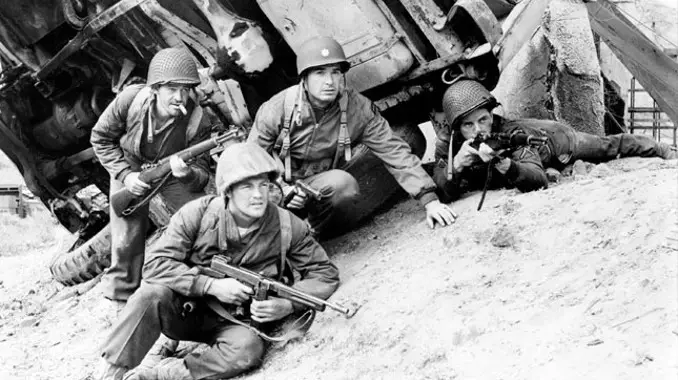 Weapons usage is uneven. The use of demolition charges on a Vichy French bunker (which is clearly fake, rather badly sited, and which shows no signs of life) seems phony, even before the Hollywood fireballs. Mind you, they never say the "enemy" in North Africa was the Vichy French. Conversely, a patrol that gets itself jammed up between two German outfits gets out with a weapon they might plausibly use, a direct-fired M2 or M19 60mm mortar.
Maybe we just missed it, but we didn't see anybody with a BAR.
Less effort seems to have been taken with the Axis arms.  The "Italian sniper" who briefly detains the unit only to die a Hollywood death, is armed with a German Mauser.
When tanks appear, they're American postwar M41 light tanks, decorated with white stars or black crosses as the script demands. That's fairly typical of a war movie of the era.
The bottom line
Darby's Rangers is not the greatest war movie ever; it's not bad, but it's not even the best William Wellman war movie.
For more information
These sites relate to this particular film.
http://www.imdb.com/title/tt0051519
http://www.imfdb.org/wiki/Darby%27s_Rangers
Rotten Tomatoes review page:
http://www.rottentomatoes.com/m/darbys_rangers/