The idea seemed to be this: a very green Army infantry platoon was going to be spending a year at a miserable position in Afghanistan, Combat Outpost (COP, pronounced like slang for policeman) Michigan, located at the junction of the Pech and Korangal valleys in southeastern Afghanistan. Why not just GoPro the living daylights out of their tour?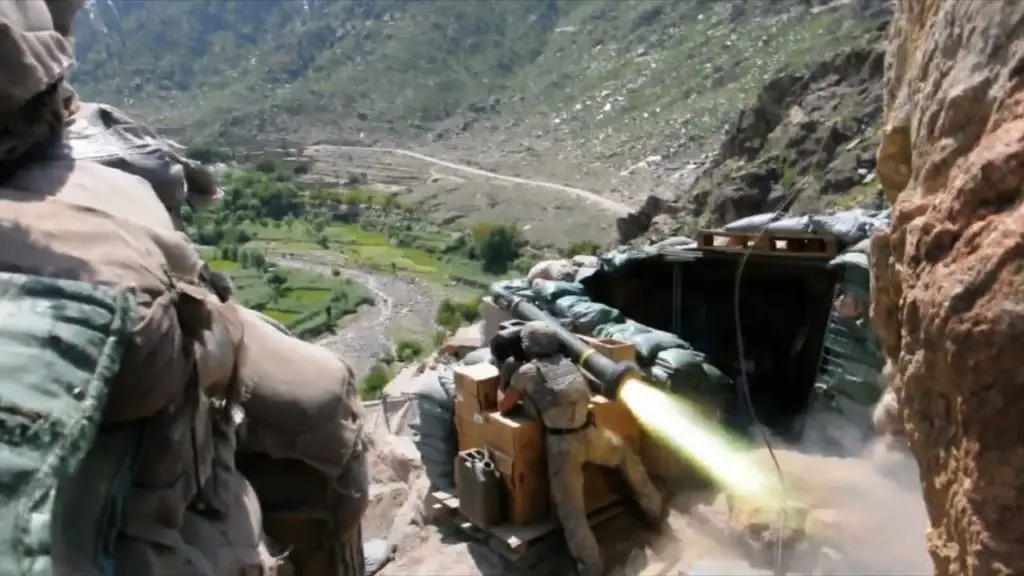 And so they did. And they got more than they bargained for.
One of their MCAVs was blown up by an IED, leaving two men dead and one with a broken spine, needing urgent medevac;
Their competent (and respected, and loved) medic was shot by a sniper, with a round entering his neck and exiting between his shoulder blades, and a man with combat lifesaver training only had to step up and keep him alive while the unit pursued tactical superiority and brought in a medevac Black Hawk;
They all would have difficulties of some kind with reintegration; the medic who thought he might be an Army career man had to reorient his life; the combat lifesaver who stepped up decided to become a paramedic and firefighter; the platoon sergeant whose men saw him as solid as a bear would struggle with survivors' guilt over the loss of each man.
There have been some excellent documentaries based on embeds, like Restrepo and Outside the Wire, but this is the first one based almost entirely on video shot by the soldiers themselves. After seeing one soldier's video, a producer put the whole thing together.
Acting and Production
There's no acting, but that doesn't mean that there aren't "characters."
One annoying detail of the production is that salty language is bleeped — always. That may have been required to get it on Discovery. Likewise, some images are blurred. One hopes that some of this is rectified before these things see DVD.
The video is fast-paced when in country, but drags in the postwar home scenes.
A documentary like this is at the mercy of the power of the events that occur while the cameras are rolling. Fortunately for the producers and viewers — and sometimes, at some heartbreaking moments, unfortunately for the soldiers of this platoon — this was an eventful tour.
This video may not be available forever, but it is supposed to be the complete video of Episode 1, posted by "Taking Fire". We found it to be a weird screen-in-screen thing, with pitch-shifted audio, but it may be available to those of you who can't see it on your cable:
Accuracy and Weapons
The weapons are the typical US weapons in use at the time. One thing that viewers may appreciate is the occasional discussion of weapons and explanation of their capabilities and roles. A high point is definitely the platoon sergeant's irritation at a private who's forgotten the oil bottle to maintain his Mk 48 LMG (basically, a SAW scaled up to 7.62, an easy trick for FN to pull off as the original Minimi was scaled down from a 7.62 mm prototype). Sure enough, the Mk 48 falls down on the job, in combat.
The bottom line
Based, we admit, on the two episodes (of five) that we've seen, this is some compelling TV. However, it is often emotionally raw and sometimes heartbreaking; consider that before you start watching.
For more information
These sites relate to this particular film.
Official Page (Discovery Network):
https://www.discovery.com/tv-shows/taking-fire/
Amazon.com DVD page (none yet)
Amazon Video (available: S1E1 for free, S1E2 for purchase):
https://www.amazon.com/Band-of-Brothers/dp/B01LYSW5HG/
http://www.imdb.com/title/tt6065848/
Rotten Tomatoes review page (none)
https://en.wikipedia.org/wiki/Taking_Fire
History vs. Hollywood Page (none).
Notes
none