A fellow could get hurt doing this — that's the case for just flying the planes of World War One. By the time of the events in this film, 1917, the machines were far more sophisticated and deadly to their enemies than the start-of-war machinery had been; they don't seem to be very much safer for the friendlies, either.
Aces High follows a new arrival at a British Royal Flying Corps squadron on the Western Front through his first week. As is often the case for combat replacements, the question is, will he live long enough to learn what he needs to know to live?
He encounters the usual suspects: the young but frazzled CO holding himself (and the unit) together with booze; the grounded, older adjutant, the font of avuncular wisdom; the winsome French girl; the stolid mechanic; the pilot officer whose nerves are shot. These scripted archetypes, already as well worn then as they are 40 years later, are saved from banality only by the skill of the players.
Acting and Production
The cast is a who's who of 1970s British actors, with Sir John Gielgud in a brief role as Etonian headmaster, Malcolm McDowell as the troubled squadron leader, Maj. Gresham, and a splendidly mustachioed Christopher Plummer as Capt. Sinclair, Gresham's non-flying, limping adjutant. Peter Firth is the youth who gets the stereotyped questions on arrival ("How many hours in S.E. 5's?" "Four and a half, sir!") and Simon Ward a squadronmate who has, er, issues.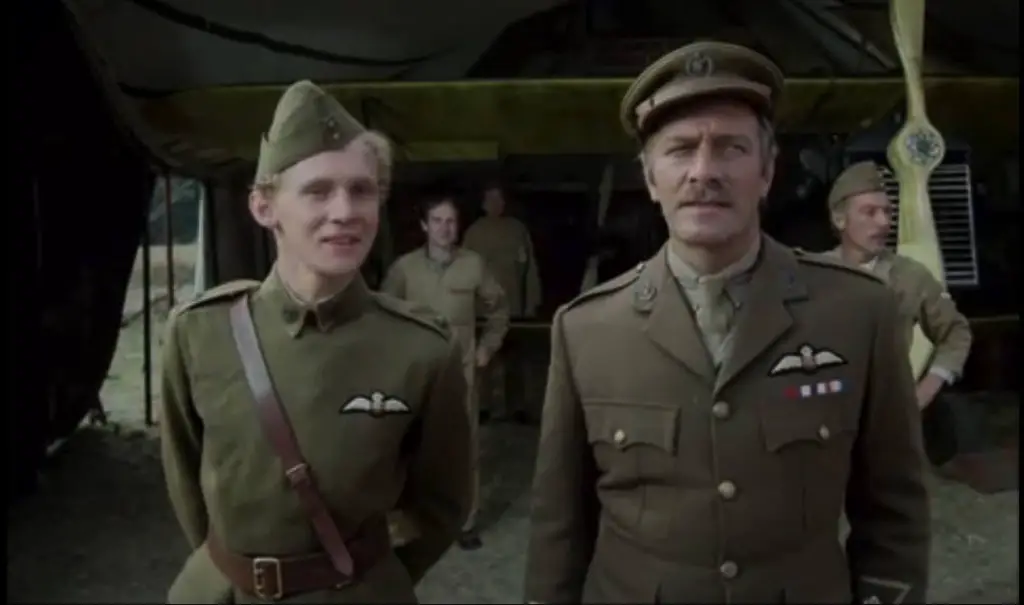 The websites say the movie was based on a play about a ground unit in the same war, but it doesn't really have any "tells" that would indicate that.
It is a characteristic 70s war film in its nihilism; much like many Hollywood films had been tortured into allegories illustrating how eager Hollywood was to surrender to Eurasian Communism, the film is, in part, a message film, and the message is that nothing good comes of war, nothing is worth dying for, and the combat soldiery has their lives thrown away by the fatcats far behind the lines.
In other words, these Brits too were anxious to get on with surrendering to Eurasian communism. (if any of them are alive today, they're exploring their potential future as dhimmis, perhaps).
The characters and situations have appeared in virtually every WWI flying movie since Hells Angels, and sometimes the tropes and stereotypes buzz around you like Richthofen's Flying Circus; as characters are introduced you can probably guess their entire character arcs and their disposition at the end of the film, one week after the arrival of the green Lieutenant Croft at 76 Squadron.
That said, why see the film? Principally for the action scenes.
Accuracy and Weapons
There are some interesting guns if you watch for them. At one point, a German two-seater crew lands to take a souvenir, and the observer-gunner winds up firing at an Englishman with a broomhandle Mauser. There are also some realistic scenes of Lewis gun magazine rotating under fire, and being changed.
The airplanes aren't a terribly good or convincing job, with converted Stampes playing SE.5s, and a dressed-up Valmet Viima (not a Tiger Moth, although it generally shares the Moth's swept-wing planform) aping various German single- and two-seaters. However, the actual stunt flying is quite good. The aerial scenes were all shot by a second unit director, not Jack Gold.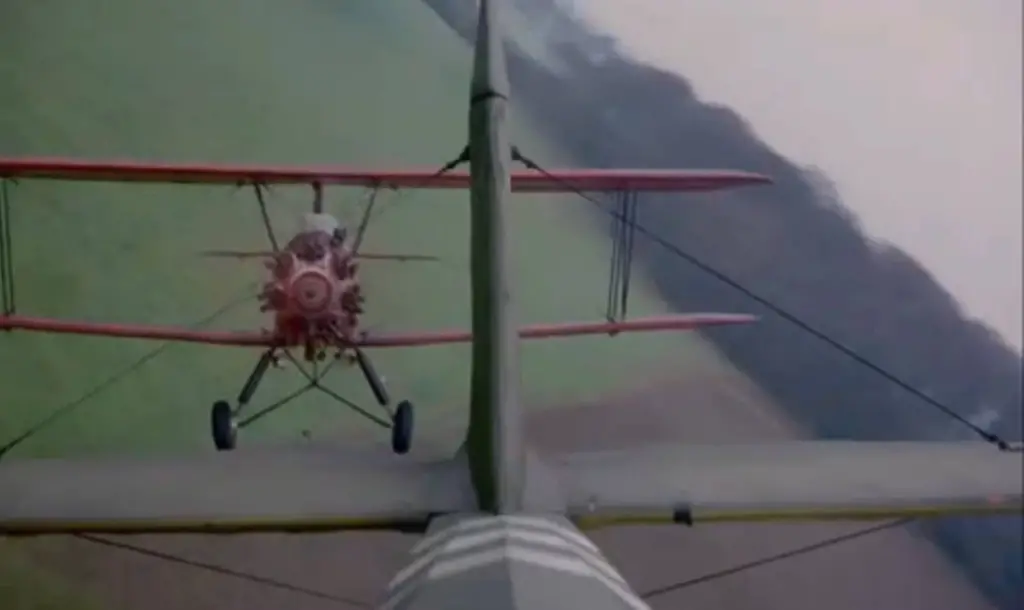 A couple of good scenes may have been lifted out of earlier movies, for example, The Blue Max (1966).
An extra, unairworthy Stampe was set afire in one scene. The biplanes actually used in the movie were all designed and made in the 1930s, but were technologically similar to the WWI planes, apart from much more reliable motors. There is one genuine WWI type in the film, an Avro 504 trainer that is used strictly as a prop.
The  sounds of MG firing are unfortunately canned sound-effects disc audio. Still, within the limits of a low budget for a period war drama, and considering the technology of 40 years ago, they did quite well.
The bottom line
Aces High is fun to watch, it's a bit of a dual period piece, redolent of the 1970s as much as of 1917. Watch it wisely (that is, don't overpay) and you'll likely enjoy yourself. (If you're a real expert on WWI aviation, don't let it drive you nuts).
For more information
These sites relate to this particular film.
http://www.amazon.com/gp/product/B00JWS9J1M/ref=dp_mv_of_dp_0
Or free streaming for Prime members, which seems to be higher quality video than the DVD:
http://www.amazon.com/Aces-High-Malcolm-McDowell/dp/B00A97BWCO
http://www.imdb.com/title/tt0075627/
Rotten Tomatoes review page:
http://www.rottentomatoes.com/m/aces-high/