(Yes, this was supposed to hit on Wednesday. We're playing catch-up this weekend. -Ed.)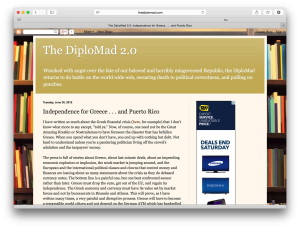 The Diplomad is not a weapons blog, but it's a blog by a guy who would have weaponized our foreign policy, if he had been in charge. But this is the State Department we're talking about here: a bunch of reality-light college kids who are determined to play "lions lay down with lambs," and moreover, convinced that the moral superiority of being the lamb in that scenario is its own reward.
We would have been terrible misfits in the Department of State, and we get a sense that W. Lewis Amselem, who outed himself only after retirement, was a misfit there too. He's our kind of guy.
The original Diplomad blog was anonymous, and closed down at one point, presumably because the Diplomatic Security Service was on Amselem's trail; fortunately, there are few safer ways to secure your backtrail than to put DSS, the armed and credentialed equivalent of the TSA, on exposing it.
Amselem was already legendary in the Department (both among angry leadership and closeted corners of competence) for a 1993 cable he wrote, tying the department's fuzzy-thinking affirmative action bureaucracy in knots with its own words. A taste:
If you are serious about racial labels, then Department medical services should be brought in to determine degrees of racial "purity." You can hire phrenologists and other experts on racial traits. There are lots of those people now unemployed in South Africa or under false names in Paraguay (better move on this last group fast, they're getting old).
He reprints the entire cable here. It was a monument of snark, and made him beloved among a certain type of foreign service officer; conversely, it made him Target For Today every day in the department's executive suites. Here's one more snippet:
Diversity zealots are toying with explosive issues; no matter how "civilized" we think we are, eventually, as we have  seen in Yugoslavia and only God knows how many other places, we all will come out to defend our ethnicity, race, religion,  etc.–and at times violently. Call it tribalism or whatever  you want, but it's there under the surface. Let it stay there; don't stir it up with misguided polices.
Of course, his cautions were ignored, and the DOS is more of a mess today than it was twenty years ago when he wrote the cable.