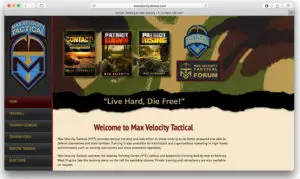 A long time ago a commenter recommended this site, Max Velocity Tactical, as a Wednesday Weapons Website of the Week. And indeed, we've read it from time to time, and it seems to be a pretty good and sensible discussion of fitness, tactics, and so forth. It's primarily a vehicle for tactical training, both by word and by promoting "Max's" books and, especially, tactical training classes.
The training classes include people with all levels of training and experience, but they tend to look eerily like military training, because that's what they are, essentially. Here we have shooting on the move, live-fire. (Note the high instructor-student ratio, a must with live fires, especially with people new to the group and each other).
The word "tactical" is rather haphazardly strewn about, these days, but in the case of Max Velocity, it fits. If you attend a course, read a book, visit the forum or read the posts on the website you may indeed learn something about tactics — something of some practical use.
Here is another picture that, apart from the mismatched uniforms, might have been snapped at Dahlonega or Camp Mackall (actually, we had mismatched uniforms in Ranger Class 1-83, because Army students had to wear OD green fatigues or OD-107 jungle fatigues, and the other services could wear ERDL camo or the then-new BDUs).
Max encourages students to review and critique training, and these reviews are available on site. There's also a discussion forum of value.
You never know what gems will show up. For a single current example, this recent report from one of the site's associates deals with one of the most necessary and, especially when starting out, unpleasant fundamental skills: rucksack marching. Here's the briefest taste:
[S]tart some run/walks with some added weight.  Don't start with a full load out.  Just like any other progressive training program, start with 15 lbs and maybe 2-3 miles.  Work up to a goal weight of say 35 lbs.  I would take 4 weeks on this.  Then get off the pavement onto the trails.  This will really start to condition your feet and ankles and lots of other stuff.  At this point you would also switch to your trail runners/light hiking boots (duh) and regular hiking clothes.  Another 4 weeks here.  Then you take it up hill.  This will be  real eye-opener.  You thought you were in shape.  Hell you are in decent shape.  But this is a whole 'nother level.  Hard to believe you can be breathing hard, close to red-lining when you are just walking up a hill.  But you will.  Another hard 4 weeks (this is based on fitness level, see below).

At each stage, drop the weight, and lower the distance again, and work your way back up to goal load and distance targets.  Speed becomes a relative thing now, because you are moving as fast as you can sustain, for whatever the terrain allows.

…

I can't think of any other physical activity that is directly applicable to what we may have to be doing in the future. It is a hell of a lot of work, but it is also immensely satisfying. So get out there and get in touch with your inner Mohican.
The author also makes the point that you should be running. That hits hard here, because Your Humble Bloghost can't run, and doesn't even walk so great (when they said don't turn the MC1-1C below 200 feet, they weren't just whistling Dixie). Here's his point:
[M]y running base made a huge difference in being able to switch gears and do serious ruck marching. Your feet, ankles, knees, and other body parts take a serious pounding in this activity. What this tells me is every one who is serious about preparing for uncertain times needs to get out and establish a running-based fitness program. Along with calisthenics, this will prepare you body for the rigors of field work.

If you don't do this, when it's go-time, the fitness curve is so steep that your body will inevitably break down, leaving you combat ineffective at the moment you need to be at your best. It's not just about cardio or muscle strength; it's also about all that connective tissue being conditioned to take the pounding. Feet, ankles, knees, hips, lower back. This goes double for older folks. All that shit is not as supple as it was before so you have to work harder to make sure you stretch it out and strengthen it to take the load.
Now, that's all from one post, and that by a guest author (but it got us to figure out where the ALICE is… under a bunch of books in the library… and shake it out and take out some of the weight that was in it for an initial shakedown).
Here's another guest post: a one-post history of the German invasion of Russia, 1941-44, and its consequences for Germany, which along with the crushing of the Japanese Empire constituted the most complete and thorough defeats of nations since the national exterminations of ancient warfare. (Had Stalin, and some Americans such as Baruch had their way, Germany might have gone the rest of the way to the fate of Carthage and Troy).
Many of the real gems that MVT has to deliver you will have to pay for, like the courses and the training plans. This is how he, and his assistant instructors, pay the bills. It is not very expensive for training that can save your life and that of your family (consider this post on the recurring problem of shooting friendlies, and how to avoid it, complete with video of a real puckerful moment where the camera-equipped shooter ceases fire just for an instant because a teammate runs in front of him, oblivious). Even the free parts of the site are very worthwhile, and that would make their dollar value infinite, wouldn't it?
There are no great mysteries to combat tactics, now "jaw-dropping shortcut" or "One weird trick," to use the argot of clickbait. There are fundamental principles, which the tactical training programs of every professional armed service in the world follow, and tactics, techniques and procedures, which are variable so long as they preserve the inviolable principles. If your "militia" shoots now and then on a flat range but can't organize and conduct a patrol, establish a defensive position, or advance by fire and maneuver, it's not a militia but a mob. (Call it a "nilitia.") Max and his guys have been working to close this gap, and they deserve recognition and attention.