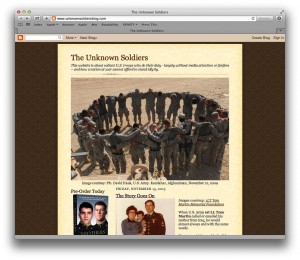 Yeah, we've been a bit weak on weapons and strong on the war, vets, and SF themes this week. So sue us, because we're going "there" again on the W4 this week. Rather than saying much about this site, we'll just advise you to go there. Tom Sileo highlights the troops fighting the war — mostly, the casualties — and their families. As he says:
This website is about valiant U.S. troops who do their duty – largely without media attention or fanfare – and how a nation at war cannot afford to stand idly by.
American soldiers* making sacrifices like these shouldn't be unknown. That's why all of you should know The Unknown Soldiers.
Tom also writes:
I haven't served in uniform. The closest I've been to war are in places like the hospital room of a courageous soldier who lost both legs in Afghanistan or in front of a brave young Marine's open casket.

Conducting an interview with a family member of a fallen hero is often heartbreaking. But whenever I start to feel emotionally drained, I think of America's real "one percent" — the valiant men and women who serve and sacrifice.

If anyone is suffering from "war fatigue," it is our nation's military community. None of us — particularly politicians and journalists — have any business claiming otherwise.

When it comes to those propagating the myth of a country that's "exhausted" from the military's post-9/11 battles, many of the same talking heads assure us that the war in Afghanistan is also winding down. If that's the case, someone forgot to tell Beth Strickland Funk, who lost her son there on Sept. 21.

"I fell to the ground and started crying before they started saying anything," Beth said of the moment she realized that her 23-year-old son, U.S. ArmySgt. Joshua "Jay" Strickland, was dead.

Like so many other members of America's community of protectors, Beth refuses to complain.

"This has just brought home to so many people that we still need to be praying and paying attention … and praying for our soldiers and their families," she said.

Eight years ago, the war in Iraq saturated most television and computer screens. Those responsible for setting war policy were under siege, and to this day, there are still heated debates about the conflict's merits.

There is little debate about Afghanistan because so few are paying attention. Whenever I attend a sporting event or concert, I often wonder how many in the stadium — including those on the playing field or stage — even know a war is still being fought. My guess is that if I polled the audience, less than half would answer correctly.
As fellow members of the real one percent, we thank Tom for engaging on this issue. I think we all know what happened between November 2008 and January 2009 that made US casualties disappear from the network news, cable channels, and influential newspapers. The casualties were no longer useful as pawns in partisan play.
He closes that essay with this thought, which among other things, explains to us old soldiers why Tom, who was never a soldier, has made this his cause:
Instead of nodding our heads when others assure us that we're tired, let's devote ourselves to honoring and remembering our country's true heroes and patriots. If there's one thing I'll never be tired of, it's learning more about their remarkable lives.
Amen. Unknown Soldiers deserves to be our Wednesday Weapons Website of the Week. (If you're a regular American like Tom, soldiers like the ones he writes about are your weapons too).
* Nothing against our many valiant allies who have fought and have fallen, it's just that this site is US-centric. If someone has a site like this for French, Italian, British, Romanian or any other troops who participated in OEF or OIF, sing out in the comments.