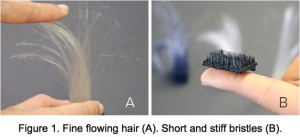 Science fiction? Right now it is, but it's now science fact that it's possible to add integral hair to 3D-printed items. Scientists at Carnegie Mellon University illustrated this using the most common form of plastic 3D printing, fused deposition modeling (also called Fused Filament Fabrication by some vendors).
They can make short, thick, rigid bristles, or soft, downy hair. The result makes hairs, fibers or bristles that taper naturally, almost organically, to a point. They write:
In this work, we introduce a technique for 3D printing soft strands, fibers, and bristles (Figure 1), using conventional fused deposition modeling (FDM). Our work was inspired by the peculiar phenomenon that occurs during the opera- tion of a handheld glue gun: when a person extrudes hot glue material and moves the gun away, a "string" of residue often forms unintentionally (Figure 2). The shape, length, and thickness of the resulting stringy material varies based on how much glue was extruded and how fast the user moves away from the extrusion point. This artifact often annoys users, but in this work, we exploit the phenomenon.
The scientists, Gierad Laput, Xiang 'Anthony' Chen, and Chris Harrison came at the problem from a human-computer interaction background and approach (they all work at CMU's Human-Computer Interaction Institute).
They did not use a high-end printer, but achieved their results with a Printrbot Simple, a ~$350 kit printer. They found that one way or another they could control the density, length, thickness, color, and distribution of the hairs or fibers. The hairs are also amenable to many kinds of post-processing. For the best results, they extrude the hairs horizontally, in the X or Y axis.
You can easily imagine some potential future developments, like a bespoke "hair" extruder that would lay down an array of hairs at once. Laput, Chen and Harrison have demonstrated the concept; now it's up to the rest of the world to reduce it to practical applications.
Like a fur-bearing rifle stock. That's perfectly and individually sculpted to your cheek weld.
They have also named the process: furbrication. Perfect!
The pre-publication paper (it is to be presented at a conference this month) is here on Laput's server.  Hat tip, Caleb Garling at MIT Technology Review.
There are people who are not in the gun culture that think we are too attached to our firearms now. What's going to happen when our guns are as soft and warm as a cuddly bunny?