Time for an update, eh?
We've been seeing really creative AR lowers for a while now. A lot of the greatest ingenuity, like the FN-inspired creations above, come from the innovator who calls himself Shanrilivan and his creative entity WarFairy Arms. Watching his Twitter feed, or @FOSSCAD's, is a good way to keep up with what's coming from the community. (Coming soon: AR and AK fire control groups, for example):
If you think there's no innovation happening in firearms, you're not tapped into the maker community inside the gun community — or is it, the gun community inside the maker community?
Some Words about Development
These lowers are not being "engineered" in any real sense of the word. Instead they're being designed, and are then being tested, in a very tight closed-loop development cycle. From lowers that busted in a couple of shots, we've got lowers that have endured thousands of rounds. And that look stylish. This pastel AR has a printed lower and printed magazine.
It's ready for its close-up, Mr De Mille: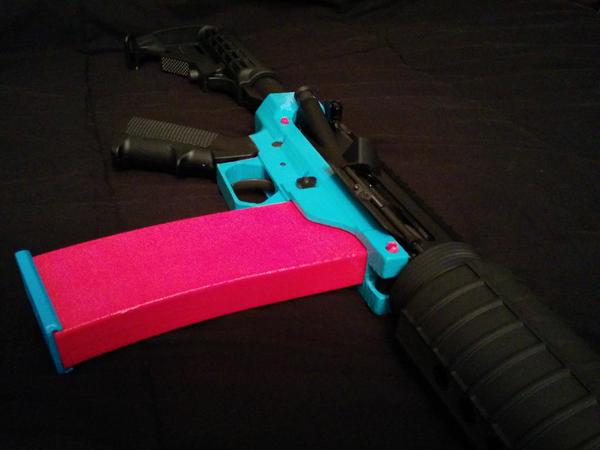 To see about 15 more pictures of printed-gun developments, including magazines, a 7.62mm lower, a revolver, and more, click the "More" button.