We think the guys running TrackingPoint know what they have to do. In fact, we think they're already doing these things. But here's what, from our point of view, is missing from the current iteration of TrackingPoint hardware and software for real penetration into the upper tier SOF market.
So, Who Do You Hit First?
If we were their marketing consultants (we use our MBA, but not like that), we'd also press them to focus on sell-in to certain SOF elements that are image leaders in the international SOF community. Sell, for example, to SAS, and you will have Peru, the UAE, the Netherlands, and many other nations very interested in your product line (Indeed, sell to SAS or to their US counterparts, and you'll get sale after sale, worldwide). It's important, also, not to over-discount the stuff to your lead customers: confidentiality agreements are fine and good, but they probably can't keep, say, American shooters from telling the foreign shooters they're training with or competing against, what a good deal you gave 'em.
Another possible launch customer is FBI HRT. As their history of reckless shots and whacked non-targets shows, they could use the marksmanship boost. Meanwhile, despite their record, they're very influential on local police procurement. Tag/track/release technology is just the ticket for police marksmen who never get enough time for training, and yet have to make more consequential and more constrained shots than a lot of military snipers. (A military sniper, outside of some rarefied CT or HR gigs, almost always has the option to no-shoot. FBI or police sniper, scope-on a crim threatening a hostage, might lack that luxury).
Who Don't You Hit?
While the Marine Scout Snipers could use the hell out of this thing, it's too foreign to Marine marksmanship culture, which is a master-and-apprentice culture that demands effort, even hardship, and eschews automation or corner-cutting of any kind. So we'd put these excellent Marine precision marksmen way down the list, right now. We've worked with enough 8541s to know that they like to do things the hard way, and they take particular joy in doing it the hard way faster than an Army guy can do it the easy way, and take a positively indecent glee in breaking the dogface's easy-way technology. Bringing this to the Marines first means that they will use their considerable intellect and energy to break your machine and send you away with a duffel bag of expensive pieces (so they're great for finding unimagined points of failure — there is that). Bringing it to them after selling it to the Army is not a panacea. It might be even harder, because they will be energized to demonstrate that the Army did Something Stupid, because if Marines believe three things about the Army it's that: we have too much money, too little guts, and way too little brains.
You'll probably need a Marine sniper on board to sell to Marine snipers. Once you do, you won't get quite the global reach that you do by selling to SAS or its American counterparts. But you get in with the world's greatest military image machine, and there is that. 
You have to be very careful about selling in to Hollywood. (One TrackingPoint precision guided rifle is already in the hands of the most successful firm that supplies movie and TV weapons and armorers). The reason is that an inept display of your product can hurt sales. (It would be very Hollywood to put the TrackingPoint system in the hands of a villain, to be overcome by someone like a Marine sniper or James Bond willing to use superior skill and old school firearms).
What's Missing From 1st-Gen Tracking Point
While the extant system has undeniable SOF applications, it also has limits, and some technical improvements — none of which are impossible or require TrackingPoint engineers to schedule an invention — would increase its marketability in military precision riflery circles.
Emission Control / Encryption / ECCM
It's great that you have a computer in a scope, and it's the wave of the future. But the computer can be located by enemy SIGINT. The video and wifi links need strong encryption, and in addition they need to be controllable so that emissions can be closed down. Even third world enemies often use electronic support measures these days, and so you need some RF low-observability measures, and you also need to have electronic counter countermeasures to ensure usability of the system in an electronic environment.
Two-way communications
This one engenders some risk, but there should be a capability for the opetator to hand off control of the PGM's optoelectronic systems to someone's telepresence from a support station. Or even from another field station.
Intelligence gathering MASINT capability
There is everything in this weapons system that's needed, for instance, to remotely measure a prison camp or a suspected SS-20 missile TEL. This capability would also tie in beautifully with the improved communications and encryption capabilities mentioned above.
A Ballistic Development Interface, SDK or App
Now that we have that in-scope computer, fully integrated with the hardware of the firearm, we need to have a way to make it more adaptable to different ammunition loadings, including one-time, single-mission loads. And that has to be done at the unit level; otherwise you've got a potential breach of compartmentation.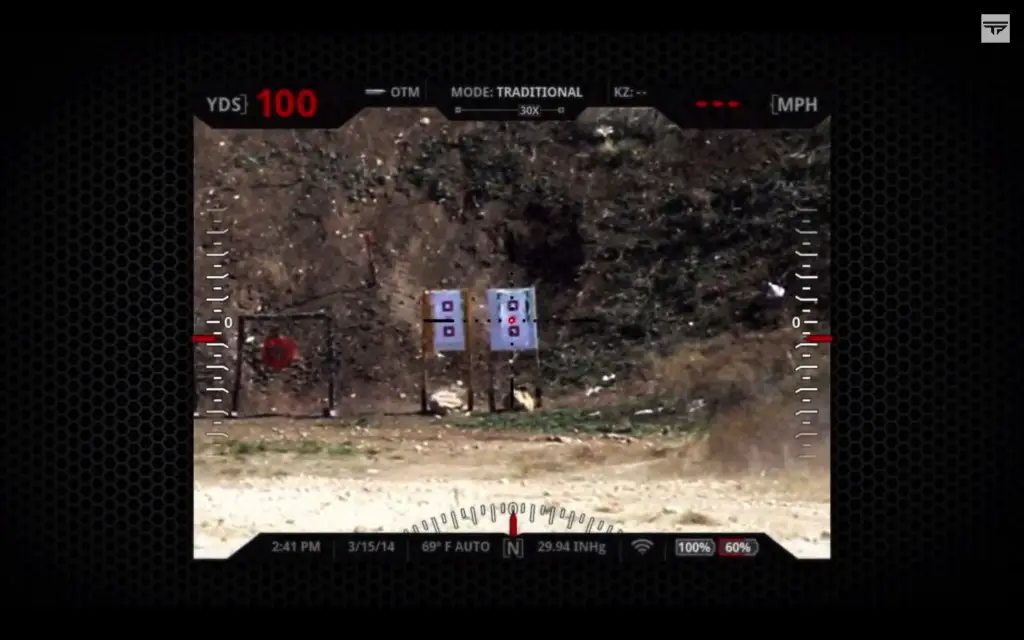 This is a sales stopper with top tier units. They develop their own long range capabilities, including, at times, loads, and they do it because they think they, like benchrest shooters, can handload a more consistent, higher-precision round than even premium ammo suppliers can do.
Demonstrated, Documented Durability
The running joke is that a soldier or marine can break a ball from a ball-bearing — just leave him alone in a room with it, and you're a half hour from looking at a broken ball, and hearing, "Uh, I dunno, sarge. It just broke!" (Bearing-ball, hell, these guys could do that with a wrecking ball). You want your machine to be wrecking-ball strong.
Demonstrated "Fail Safe" mode.
The capability of the system has to degrade gracefully. If you're sneakin and peekin' on Day 38 of a "14-day mission," dead batteries can't leave you in shoot-randomly mode (let alone, can't-shoot mode). Even an ACOG, which is probably harder to break than the gun it's atop, has cast-in backup sights. But with a TrackingPoint gun's scope being dependent on a CCD display at the shooter end, you can't afford to have dead batteries.
Full Auto Stabilization Mode
We can't be the only ones who looked at this and thought, "tag, track & x-act really could up the game of a door gunner and/or Boat Guy." Hell, those Chenoweth sandrails might come back from the dead, if the gunners in them could actually hit things instead of just contribute morale-raising decibels to a fight. Imagine this Hollywood concoction, except real, and with the boost in hit probability than TrackingPoint promises.
You know you want one (more on the movie gun soon).
Note that these are just for the military employment of tracking point, as combat weapons technology. We haven't even addressed the utility of tracking point for big game hunting, which is what the thing was developed for in the first place. Its applications for everything from African plains game to heliborne predator control seem self-evident. We haven't even hinted at the potential for a rimfire TrackingPoint squirrel slaughter system, something that would sell itself once the price comes down.
As we all know, the guys running TrackingPoint are not stupid. They are probably thinking of most if not all of these things already. If not, hey, our rates are reasonable; drop us a line.