From a few angles this gun looks like a Colt 1911:
But wait… Look at that slide stop. Look at that lanyard ring. And hey, where's the magazine catch? It's like a 1911, and it's chambered for .45 ACP. But it's not a 1911. Think you know what it is? Next clue, coming up:
That's kind of a low serial number on there, Sparky. It's got patent dates through 1905, so maybe it's a Colt 1905. It does look like one (by the way, all these pictures embiggen with a click).
It sure looks like a Colt 1905, but it isn't. It's a rarer bird entirely: one of the Colt 1907 trials guns, of which a total of 207 were assembled — 200 to meet the contractual requirements, and 7 overruns/floats (these protected Colt from being short if a few guns were screwed up during manufacture. However, some sources say only 201 1907s were assembled).
Colt 1907 .45 ACP caliber pistol. Rare model 1907 U.S. Government Contract, with factory letter. Gun has 90-93% blue on frame (Serial #96). Slide has a blue mixed with light brown patina. Grips are excellent. Frame is "K.M" marked by Major Kenneth Morton. The first 200 guns were shipped to Springfield Armory. There were 7 overrun pistols. Total of 207 guns made. This is very desirable for the Colt auto collector as well as being a martial Colt auto. Very rare Colt.
This one isn't a GunBroker special, it's for sale at Collectors Firearms in Houston, but the asking price suggests it's for the advanced Colt or martial collector: $31,500.
One suspects that most of these guns survive in collections, but they seldom come out. Years ago, Rock Island Auctions sold one (#126), the auction listing of which remains online (it is kind of RIA to keep these old listings alive, and very useful to collectors, dealers and historians alike).
The Colt letter with that auction explains some of the differences and notes that the shipment of 200 pistols was sent to the Commanding Officer, Springfield Armory on 17 March 1908. Savage also submitted 200 .45 caliber pistols. They were the finalists from an earlier round of testing of a few pistols, and were enroute to Springfield on their way to field tests with Army combat-arms units.
The early 1907 round of testing also included:
One or more .45 Lugers. The Army had already field-tested 1,000 7.65mm Lugers. The Luger's strengths were its reliability and ease of disassembly and reassembly without special tools. It's disadvantages included general complexity and poor function with US made rounds, unlike the German rounds with fast-burning powder that came with the gun. With Georg Luger himself in attendance at the trials, this was the nearest runner-up to the two finalists.
Webley-Fosbery Automatic Revolver. It was reliable, but the board just didn't like it, and it had no advantage over an automatic pistol (and some marked disadvantages, slow loading and limited capacity).
White-Merrill. The modified blowback system needed a gorilla's grip to operate, and it didn't work reliably.
Bergmann. For whatever reason, the samples provided didn't work, as it wouldn't set off a cartridge.
Knoble. Two versions of this oddity were sent without much in the way of instructions, and the inventor didn't attend. So when the Army's board of combat-arms officers and small arms experts couldn't figure out why they weren't working, or how to make one fire, both Knobles were set aside.
We ought to give a moment's more consideration to the two real oddballs here, the Knobles and  the White-Merrill. Here's the board's explanation of its dismissal of the Knobles: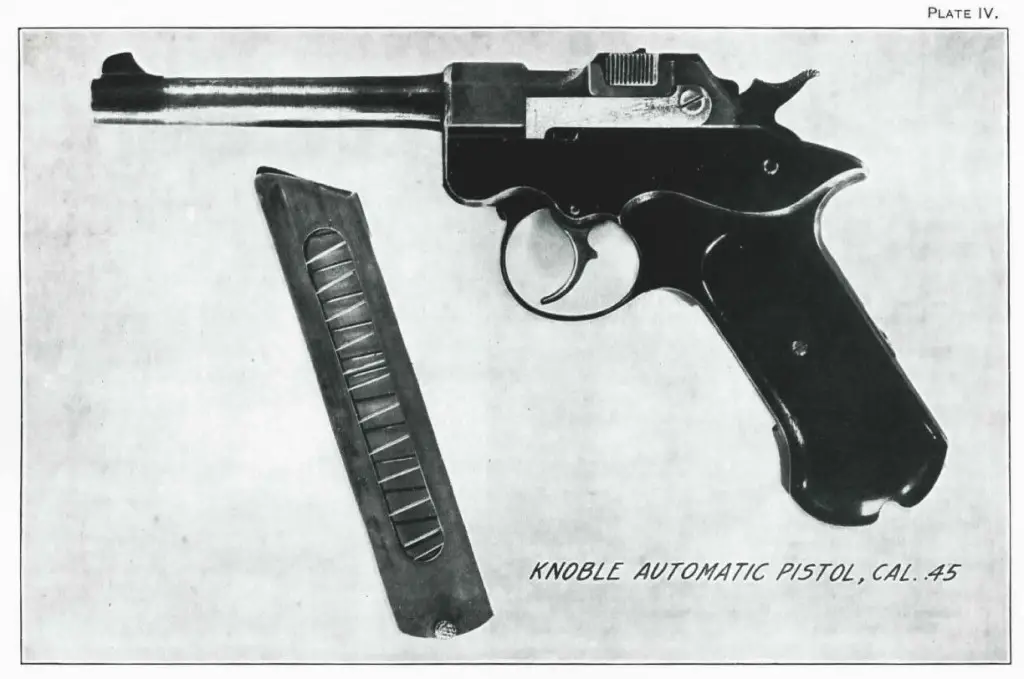 A careful examination and several efforts to fire these weapons showed that they were so crudely manufactured as to render any test without value, smooth working being impossible. It was therefore decided that these arms would be given no further consideration by the board.
Ow. That'll leave a mark. The Knoble did have one interesting feature — one of the two samples was double-action, edging out Walther's "first" by some 18 years. But then, the Walther PP worked when introduced.
The gimmick of the White-Merrill was its charging lever, seen below the trigger guard. This lever was operated by the 2nd and 3rd fingers of the gripping hand. This was to optimize the pistol for cavalry use; a single-handed pistol was a big advantage to a trooper with one hand full of his mount's reins.
Gimmick notwithstanding, the White-Merrill also failed basic standards of reliability.
This arm is experimental and its functioning was so unsatisfactory that the test was discontinued. The conception of a loading lever which permits loading by the pistol hand is commended, but its practical application was not entirely satisfactory.
They also looked at Colt and Smith & Wesson revolvers, almost like scientific controls — a known quantity. The board decided to adopt the Colt (it became the Model 1909) revolver as a temporary stopgap, and focus on the two highest-performing trials pistols — the Colt and the Savage — for a 200-gun test under field conditions. These were the Colt 1905 Military in .45 and the Savage 1906. They wanted two improvements, though, to these pistols — a loaded-chamber indicator, and some kind of "automatic safety." That was the genesis of the grip safety in this 1907 Colt (one of the things distinguishing it from the 1905), which was particularly desired by the cavalry branch for safety on horseback.
Savage was slow to accept the 200-pistol order, and it very nearly went to DWM/Ludwig Löwe for the Luger.
The 1907 Colt and 1907 Savage went head-to-head in field tests, with the Colt having the inside track all the way, but both companies continuing to modify and improve their designs. A few more changes produced the Colt Model 1911 and the Savage Model 1910, which met in 1911 for a final shootoff.
The past is truly a different country.
Back to the original gun that got this post started — is one of those field test guns worth over $30k? While we love it for its history, not for us at that price. But it's a great rarity; Savage was reluctant to tool up for the 200 test pistols, but once they did, they made almost 90 overruns, so they're actually slightly less rare than the equivalent Colt.
For whatever reason,  it's great to live in a place and time where somebody can spend that kind of money to improve his Colt or martial pistols collection
Sources:
Note: the first one is the primary source, the board report on the initial trials. We're very grateful to Ian for putting this online, as it lets us look at the pistol in a little more depth than we get just from a sellers' listing. We'd really like to see the report of the field test, too — that has to be kicking around somewhere.
Chief of Ordnance. Appendix to the Annual Report of the Chief of Ordnance: Report of Board on Tests of Revolvers and Automatic Pistols. Washington, Government Printing Office: 1907. Retrieved from: http://www.forgottenweapons.com/wp-content/uploads/manuals/1907pistoltrials.pdf
McCollum, Ian. 1907 US Pistol & Revolver Trials. ForgottenWeapons.com: 27 May, 2011. Retrieved from: http://www.forgottenweapons.com/1907-us-pistol-revolver-trials/
Schreier, Philip. The 1907 Army Pistol Trials. SSUSA: February, 2001. Retrieved from: http://www.nramuseum.org/media/940450/1907%20pistol%20trials.pdf
See also the video at: Forgotten Weapons on the Development of the 1911. Weaponsman.com: 1 December, 2014. Retrieved from: http://weaponsman.com/?p=19360