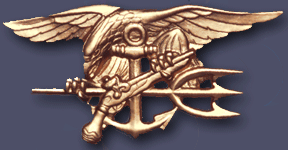 Not sure why we get that question. When we do, we try to hand the questioner off to someone who can answer it — like a real-deal SEAL. Because we're Army guys, and while we have some occasional contact with our triphibious brethren of the sign of the trident, we're not qualified to tell you how to join them. They are, by definition: after all, every single one of them pulled it off.
Lately, the SEALs have been buzzing about a book that dispenses useful advice for SEAL "wannabes" — the kind who get their wannabe on by going to the Basic Underwater Demolition/SEAL school, BUD/S (a rite of passage current SEALs are glad to have new young men attempt) rather than by just pinning a trident on an unworthy chest (something that has historically produced an epic beating, and removal of the unearned badge into SEAL safekeeping. Don't even ask what happens to the cretins who have themselves tattooed with an unearned Budweiser).
That's one of the cultural differences. Pretend to be SF, and we will taunt and mock you, and make you a laughingstock in a wide range of languages and cultures, and bring any of your plans which hinged on your pseudo-accomplishments down into ruination. Pretend to be a SEAL, and the frogmen are liable express their dissatisfaction with your course of action directly and robustly. It's the frog way.
Anyway, the secret to success in SEAL training is not a lot different from that in Ranger RASP, SF Assessment & Selection, and other special operations forces' selection processes: don't quit. Or as Churchill might have put it, "If you're going through Hell Week, keep on going." But that simple advice is admittedly quite general in nature, and today's candidates are seeking more-specific advice. And also, everybody knows that don't quit is the answer, and also knows that it's terribly hard to actually do. All the guys who dropped out, rang the bell and quit, knew don't quit was what they needed to do, but somehow… they quit.
A SEAL officer thought that he would address both the desire for detail he sees in candidates, and the loss of human potential he sees over and over when young men who might have been SEALs drop out, often because they fell into behavioral ruts or traps.
If author DH Xavier has a single message, it's that the young men who pass BUD/S are not supermen — that the average guy can, indeed, be a SEAL. If he mentally prepares himself for an arduous selection process that only seems physical, but is essentially mental, psychological, maybe neurological.
The book is, rather amusingly, called Breaking BUD/S. We bought a Kindle copy even though we're not exactly in the demographic any more, and even though the Kindle edition is overpriced for an e-book.