This press release was so tempting that we had to double check — was it really dated April 10, not April 1? Turns out, it is (well, some versions are dated April 9).
(McLean, VA – April 9, 2015) FNH USA is excited to announce that three new products, including a brand-new product line, will be making their first appearance on the FNH USA Booth #2324 at the 2015 NRA Annual Meetings in Nashville, TN. Expected to be released in the Fall of 2015 are the mil-spec FN M249S™, a semi-automatic version of the U.S. Military's M249 SAW light machine gun and two new additions to the company's modern sporting rifle line, the FN 15™ M4 and M16 Military Collector Series.
Are they serious?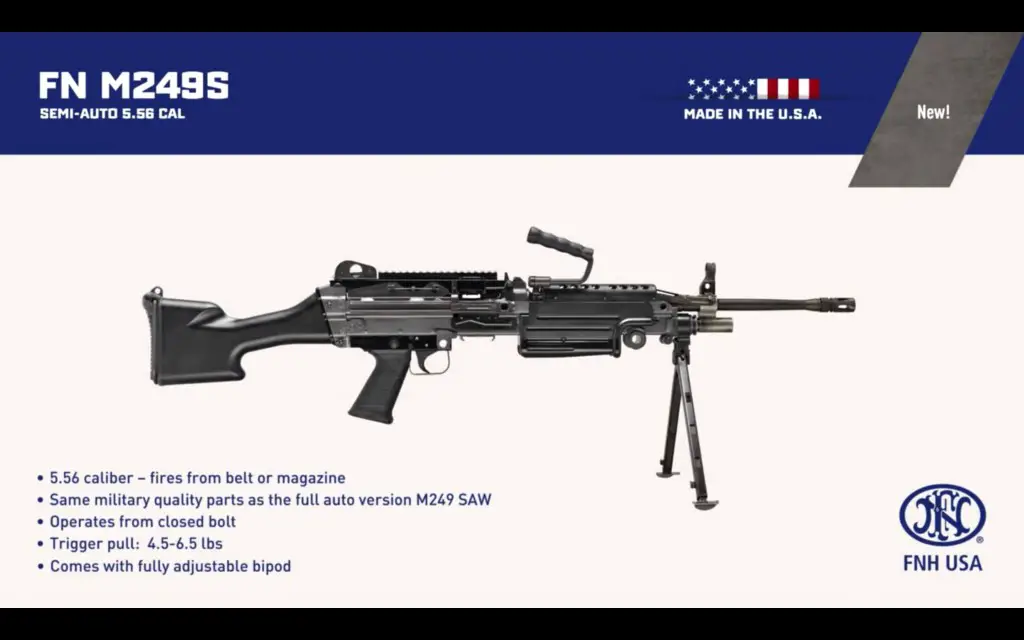 Serious as a heart attack.
Holy schnikeys, a semi-auto Minimi from none other than FN? True, we'd rather have the full-auto one (personal aside to William Hughes: may your soul's torment in Hades never cease), but given the laws we've got, we'll take it. The bad news is that, while they're teasing the product now for a fall 2015 launch, they didn't put a lot of prep into the website — it's still all full of holes.
Machine Gunners Depend on Riflemen
And FN is also introducing two new "Military Collectors" versions of the M16 Rifle and M4 Carbine. These include DOD-like code labels on the magazine wells, unlike FN's sporting AR-series guns which feature a very large FN logo on the mag well. As the press release puts it: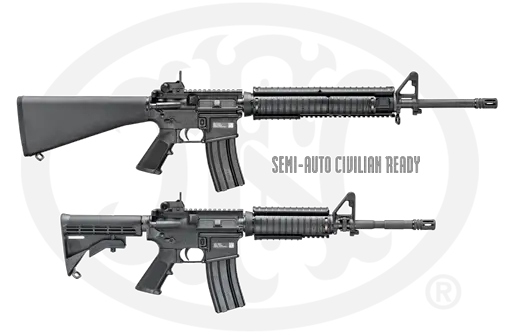 The FN 15™ Military Collector's Series M4 and M16 bring to market military replica rifles made to FN's exacting specifications. The semi-automatic rifles are chambered in 5.56x45mm NATO and feature M4 -profile 16 and 20-inch 1:7" RH, button broached and chrome-lined barrels, respectively. Each UID-labeled lower receiver is equipped with an ambidextrous selector switch, just like its select-fire big brother.
The web page for the Military Collectors carbines is better fleshed out than the M249S page.
Both of these product lines will find a niche market, and they'll also help FN manage production when faced with the herky-jerky and unreliable nature of military orders. So it's a win for FN, for the .mil (by helping to absorb overhead that would otherwise fall on the DOD budget), and of course, for those who want to own and shoot these firearms.
We want, we think, one of each. You?