We've been reading Treat 'em Rough: The Birth of American Armor 1917-20 by Dale Wilson. It is the single book-length treatment of the US Army Tank Corps in World War I, and it filled its void so well — there was no such book before it — that it seems to have derailed future scholorship — there has been no such book since, although there has been an overview by Robert Cameron for the US Army Center for Military History: Mobility, Shock, and Firepower: The emergence of The U.S. Army's Armor BrAnch, 1917– 1945. Cameron's book is rather dependent on Wilson for its WWI details, and is available for free in .pdf format from the Army CMH web. If you're interested in WWI armor, though, the Wilson book is the gold standard,
We've been surprised to learn how quickly the US established an effective tank arm, as we've been familiar with the terrible teething problems of US Army and Navy aviation in the Great War.
The term, "Treat 'em Rough," was the recruiting slogan of the tank corps, which was characterized also by a mascot — a furious black tomcat, hair up and claws out. Wilson's Treat 'em Rough uses the most colorful of these posters as its cover.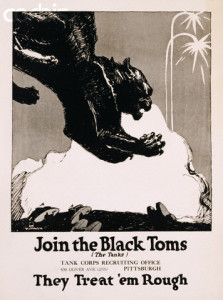 The tankers were plagued by many of the same problems as the aviators — American manufacturers who over-promised and under-delivered, and the resulting need to use foreign equipment — but they resolved them with grit and imagination. Many of the WWI tank officers would be important men in WWII, including Dwight D. Eisenhower and George S. Patton Jr.
By war's end, Patton had developed a series of lessons learned. Many of these still apply today; others resulted from the novelty and relative unreliability of Great War Tanks.
Here are Patton's perceptions (from Wilson, pp.208-09).
Senior officers, in their demands on the tanks, did not seem to realize their limitations and especially the fact the tanks must have infantry operating with them, if they are to be successfully employed.
A lack of liaison between tanks and the infantry severely handicapped the tanks during operations.
The infantry used the tanks as a crutch, expecting them to overcome enemy resistance and consolidate objectives after successful attacks.
Tanks, because of their mechanical weaknesses, should not be squandered in a reconnaissance role.
The distance between attack positions and lines of departure should be reduced in order to cut losses due to mechanical failure.
There is no substitute for physical ground reconnaissance by key leaders.
Measures such as smoke screens and dedicated artillery units for counterbattery fire should be employed to reduce the effectiveness of enemy artillery against tanks.
Tanks clearly demonstrated their value as an offensive weapon and as a separate combat arm.
Changes in tactics, especially with regard to better use of tanks in mass and depth, or needed.1
See what we mean about reliability? Patton clearly had been badly burned, and after action reports show that most tanks broke down in most operations.
The Army got the best and most reliable tanks their allies made (the Renault FT light tank and the British Mk V and Mk V* ("Mark Five Star") heavy tanks). It's just that, in 1918, the best wasn't all that good.
We'll have more to say about these tanks in a future post, we hope, but the FT had a swiveling turret with a short 37mm gun or a Hotchkiss machine gun.It had a crew of two. The lozenge-shaped Mk V, the classic WWI tank, had a crew of eight or nine and was armed with machine guns and, in some versions, cannons, in hull-side sponsons. Both had a top speed of about 5 mph, a good match for a walking doughboy.
British and French tank concepts were entirely different, with the
French using light tanks to accompany and support infantry, and the British heavy tanks to force breakthroughs for exploitation by infantry. American doctrine hastily synthesized both nations' approaches and then went into stasis for most of the period in between the wars, while British, French and Soviet tankers shook down new operational concepts.
The Germans countered the Allied tanks with anti-tank rifles, armor-piercing ammunition for their thousands of machine guns, and, most effectively, with direct-fire and indirect-fire artillery under the control of forward observers with their eyes on the tanks. But for every tank destroyed by enemy action, several fell to overheating, clutch failure, thrown tracks, or other breakdowns. One major weakness of the Mark V and Mark V Star was the fan belt, failure of which would quickly down the tank. The Americans carried spare fan belts in a designated maintenance tank, an idea that simply hadn't occurred to their British mentors (but which the British wasted no time adopting).
Still, a hit from an artillery shell usually meant curtains for a tank, like this FT. WWI tanks had thin face-hardened armor, which shattered under artillery assault, as seen here.
A number of the tank crewmen were recognized for acts of desperate valor, including two NCOs who received the Medal of Honor (one posthumously), and many officers and NCOs decorated with the Distinguished Service Cross.
Some tankers also received British decorations, especially after American tank battalions (and other American units) were attached to Sir John Monash's Australians for a late-September 1918 offensive.
After the war, aviation managed to survive as a separate branch or corps, but tanks didn't. They were subsumed under the authority of the Infantry branch, and neglected until the clouds of World War II made the Army start to improve its tanks, finally, in both mechanical and doctrinal ays. (They had used long-obsolete Ford Six Ton Tanks, a "copy" of the FT that managed to have zero interchangeable parts, well into the 1930s). Talented officers such as Patton and Eisenhower saw the writing on the wall, and rebranched to the branch of service that the Army brass of 1920 considered to have a future.
The horse cavalry.
That's the Army for you.
Corrections
Several typos in the initial post have been corrected. WeaponsMan.com regrets the errors. Thanks to the reader who brought them to our attention.
Notes
Wilson extracted this information from pages 9-10 of Patton's Operations of the 304th Brigade, Tank Corps, from September 26th to October 15, 1918, from the Patton chronological files, to which he had access.