As we all know from Junior High French, Tour d'Horizon means Hognose has too many stories in his open tabs at the end of the week. What do you expect? It's Friday!
Guns
I don't wanna work, I just wanna bang on my gun all day.
Take the Suppressor off your Mouth…
…And put it on your gun. Colion Noir, from NRA TV.
Hey, maybe that was a Gun Poly-Ticks post. Maybe. But we've always liked this guy.
3D Printed "M203" by RDECOM, Picatinny
This video shows the printing of both an M203 type launcher using Selective Laser Sintering (SLS) in aluminum, and an equivalent of the M781 training practice round using SLS and Fused Deposition Modeling (FDM).
Gun Stocks update
Pre-Election closings: RGR 64.40, SWHC 28.45, VSTO 38.94.  [8 Nov 16]
-9 week's closings: RGR 53.20, SWHC 24.13, VSTO 40.02. [18 Nov 16]
-8 week's closings: RGR 52.50, SWHC 23.82, VSTO 41.05. [25 Nov 16] [short trading day and week]
-7 week's closings: RGR 50.25, SWHC 21.10, VSTO 39.66. [2 Dec 16]
-6 week's closings: RGR 51.90, SWHC 21.07, VSTO 38.62. [9 Dec 16]
-5 week's closings: RGR 53.45, SWHC 21.59, VSTO 36.81. [16 Dec 16]
-4 week's closings: RGR 54.05, SWHC 22.11, VSTO 38.02. [23 Dec 16]
-3 week's closings: RGR 52.70, SWHC 21.08, VSTO 36.90. [30 Dec 16] (this was the final close for SWHC, which renamed itself AOBC).
-2 week's closings: RGR 54.15, AOBC (ex-SWHC) 21.00, VSTO 38.08. [6 Jan 17]
Last week's closings: RGR 51.35, AOBC 20.60, VSTO 28.70. [13 Jan 17]
This week's closings: RGR 50.65, AOBC 20.13, VSTO 27.78. [20 Jan 17]
Everybody's down a little bit this week.
Disclaimer: Your Humble Blogger holds RGR, bought at about 56.40 on 9 Nov 16. It bottomed in the 40s later that day. We still think it has longterm growth potential, and we like the dividend, but we've lost (on paper) thousands of dollars.
Gun Poly-Ticks
How's Open Carry Working Out in Texas?
Well, stop us if this shocks you, but the bloodbath that the anti-gun activists and the press (pardon the redundancy) predicted has not emerged. Herschel Smith has a report from Lubbock.
"We don't have any reports that we've had any difficulty for the most part, the type of person–generally speaking– that wants to open carry is someone that wants to enforce the law. They understand what the law is therefor the reasons behind it," [Lubbock Assistant Chief Jon] Caspell said.
Hersch is a constitutional hardcase. It doesn't bug us if a cop asks politely for a license (spittle-flecked screaming whilst white knuckles close on his Glock, that's different. Some guys just shouldn't be cops, and the timid are among them). But he explains why it bugs him, and he makes sense:
There are three aspects of this report that deserve comment.  First of all, I don't advocate open carry any more than concealed carry.  I advocate carrying the way you feel the most comfortable and tactically suited to the situation.  But if there are never any open carriers, then this right will be seen as a permission that is rarely used.  That's not a good outcome.
We've had open carry around here for a long time, and one sees it occasionally. It doesn't seem to bother anybody. I estimate that there are about 100 concealed carriers for every open carrier.
Chicago Still Can't Ban Ranges
After the 7th Circuit Court of Appeals lifted Chicago's ban on firing ranges in what is known as the Ezell case, a Chicago bureaucrat (and Chicago Outfit moll), Zoning Administrator Patricia Scudiero, essentially zoned them out of existence based on fabricated claims of risk, while other Chicago bureaucrats imposed a variety of restrictions (forbidding parents teaching their children to shoot, for example), and Ezell sued again. A three-judge panel overturned the Outfit's restrictions. See two reports in the Washington Post: David Kopel and Eugene Volokh.
Usage and Employment
 The hardware takes you only half way.
Assistance to Law Enforcement in AZ
A motorist stopped at a shocking scene: an angry man had gotten the best of state trooper Edward Andersson, had him down and seriously injured, and was beating him. As his fiancée called 911 for help, and he approached the officer, to offer immediate assistance.
According to Colonel Frank Milstead, director of the Arizona Department of Public Safety, the assailant was straddling Trooper Andersson's chest, "taking big blows" with his fists "and trying to bang his head into the ground while striking him" when a good Samaritan stopped his car to help. While his fiancée called police, the Samaritan approached and asked if the trooper needed assistance. When he trooper replied that he did, the motorist retrieved a 9 mm pistol from his vehicle and told the assailant to stop attacking the trooper—at which point the assailant paused to swear at him before resuming his attack.
What the armed civilian did next indicates good adaptive skills (and decent shooting).
"Because of his position, he doesn't think he can fire without hitting the trooper, so he adjusts his position, and he delivers at least two bullet strikes to the suspect, rendering the suspect incapacitated, albeit temporarily," Milstead continued. "The good Samaritan then begins to administer first aid to Trooper Andersson … The suspect gets up a second time and begins to attack them again …  As the suspect approaches, the good Samaritan fires another round, this time striking the suspect in the head, mortally wounding him and ending the fight."
The Associated Press report attributed the cop's survival to intervention by a drive-by shooter! And didn't mention the background of the dead assailant, a career criminal, meth addict and dealer, and criminal alien fugitive who had been saved from deportation by the government policy of protecting illegal alien criminals.
37-year-old Leonard Penuelas-Escobar, an illegal immigrant from Mexico. He and his girlfriend, 23-year-old Vanessa Lopez-Ruiz, were reportedly meth users who had been evicted from their apartment for dealing drugs, and a warrant was out for Lopez-Ruiz's arrest. The two were flying down the interstate around 4:00 a.m. when the vehicle overturned, ejecting the woman and killing her.
Well, he's deported now. Trooper Andersson survived and they're hopeful he will recover; Penis-Escobar killed his woman with his driving, and himself with his assault on an officer. Bad cess to the pair of them.
Cops 'n' Crims
Cops bein' cops, crims bein' crims. The endless Tom and Jerry show of crime and (sometimes instantaneous) punishment.
When the Cop is a Crim, I
We got a lot of these today. Now, this guy's not even indicted yet, he's just gotten the fabled "target letter." But he's the Police Chief of Honolulu, and he's behind the eight ball on a corruption charge. And so what are the city fathers doing? Showering him with money, in a deal cut behind closed doors. (Caution, autoplay video).
The Honolulu Police Commission approved a $250,000 payout deal for embattled Police Chief Louis Kealoha on Wednesday….

Kealoha will get the payout in addition to a pension of about $150,000 a year and free medical care for life.
That's whether he's convicted or not, the pension. The Commission, under fire from the City Council and public, did insert language that he has to pay back the quarter-mil in hush money if he loses the contest with judge and jury.
He had threatened to sue for "discrimination" (against a Hawaiian. In Hawaii) if they didn't pony up the hush money, so they did. He's credibly accused at being at the center of an attempt to frame an estranged relative (autoplay) for a theft; other HPD officers have already rolled over and pled guilty, so it's probably all kabuki from here, but it has to play out.
Kealoha is a supporter of gun control, on record that the police are the Only Ones who should have guns because of their ethical and tactical superiority. Naturally.
Cop-Killer Got Thumped a Mite
Poor Markeith Loyd, seen in the before picture to the right, dindu nuffin. OK, so he whacked his ex, he dindu nuffin but that… well, OK, so he shot her brother, too. OK, so he killed a cop, Lt. Debra Clayton, shooting her dead in a confrontation at a Walmart, and OK, another office, Deputy Norman Lewis, died in a crash chasing him.
Apart from that, and having this pre-existing mugshot for reasons the press seem disinclined to mention, Markeith was a model citizen. Various friends, relatives, and the more general Black Criminals' Lives Matter movement helped him evade arrest after he gunned Clayton down (some of them are in custody now on accessory charges). When the cops finally caught up with him, he ducked inside the home where he was being hidden — and came out in body armor and with two guns.
Despite that, the cops took him alive to face justice. In the process, Markeith got tuned up a little:
We suppose you could say they treated him like a king — Rodney King. But that's OK, it only hurts when we laugh. Hurts him, that is.
When reporters and Black Criminals' Lives Matter accused the cops of beating him, the Orlando, FL police chief said:
"He resisted arrest and there was force used."
The reporters doubt that he resisted enough to take this thumping. Remember: two guns, body armor. The cops had every justification in the world for shooting this guy. Some pathogens just need antibiotics.
When the Cop is a Crim, II
In California, where guns are all but outlawed, you can always trust the Only Ones.
Kyle Rowland, 23, a rookie deputy who lives in Sacramento and recently started commuting to his new job in the Bay Area, was attending a small gathering late Thursday at a home in his downtown neighborhood. He left the party briefly, possibly after a dispute, only to return after midnight with two firearms, according to the Sacramento Police Department.

His return to the party created a "disturbance" and a confrontation ensued between Rowland and others at the house, police said. During the ruckus, Rowland fired a handgun "multiple times," police said.
Yeah, he's now experiencing the criminal justice system from the other side.
The Perils of Kathleen: Nothing this week, finally….
She'll be back in the news soon enough, when her appeal kicks off. Barring some Perry-Mason-level courtroom event, the appeal will end with her reporting to state prison. But you get to play the last 10 minutes of the game even if you're down fifty points. At this point, she's paying her own lawyers, but she's using the family fortune of the husband she's divorcing, so it's not like she's contesting any of the bills.
When the Cop is Really a Crim
In a creepy story from Florida, an armed woman dressed in police gear and going door to door and pretending to be a detective seeking Markeith Loyd (see above), was not a cop at all, but probably casing homes for a burglary ring. Wary homeowners called 911 on her, but she got away.
Let 'em All Out
This infographic celebrates the pace of pardons in the outgoing Administration. If the following graphic was correct, it would show a gun or knife in the hand of the sprung prestoopnik.
The pardons and commutations included quite a few terrorists, including many jihadis transferred from Guantanamo to foreign nations that will return them to the jihad. 
There were also many violent criminals, including murderers on Death Row. And, of course, Bradley Manning; for some reason, Russians hacking a political party's unsecured email server (P@ssword01!) is the crime of the century, but an insecure little weasel leaking masses of highly sensitive documents out of sheer self-aggrandization is excusable. More on that moron below in Veterans Issues.
Unconventional (and current) Warfare
What goes on in the battlezones of the world — and preparation of the future battlefields. 
SEAL History Highlights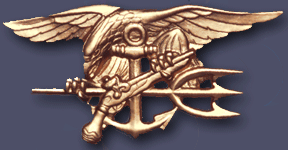 Flagged by former SEAL officer Matt Bracken to this interesting history roundup, that hits some of the SEALs' high points (although neither Grenada nor Paitilla Airfield was exactly a high point. Unlike Social Justice Warriors, real warriors don't get valuable points by being victims). Some of the frogmen's greatest successes are left off this article, which feels like what it is, a cheap tie-in to promote the upcoming series on History (aka the Paranormal Channel these days). The series looks, from its previews, utterly cringeworthy, and done on a budget of $31.73 in pennies from the producer's couch and sock-drawer. But the roundup does remind us of the long and noble recent history of our naval special operations frog-brethren. (Yes, naval special operations existed before D-Day. Before WWII even! But hey, it's the History Channel, so anything that engages with actual, you know, history, is a step up these days).
Veterans' Issues
Is it time to o disband this thing yet, and letting all its bloatoverhead seek its own level in the Dreaded Private Sector™?
The Plague of Fake PTSD
In releasing traitor Bradley Manning, President Obama cited Manning's "PTSD". Manning has a veritable Petri dish of mental bugs, but to get real PTSD, one has to experience real trauma. There are tens of thousands of sniveling rear-echelon weenies like this sobbing drama queen who are riding phony 100% disabilities, and the VA encourages this behavior.
There are people that really suffer from what was called in World War I "Repression of War Experience," but really, in order to have that, oughtn't one to have some, you know, war experience? Not getting a stern talking to because you were a failure at your job, which was the full extent of ickle Bwadwey's twauma?
We know, we know, he was twaumatized by his inability to grow up. Even in the great institutional imposers of adulthood: the Army, where he didn't belong, and Leavenworth, where he did. C'est dommage.
At least he won't be sucking up a 100% disability rating for his phony-baloney PTSD. Why not? Because he's still a convicted felon, dishonorably discharged, and thus, the mousy little traitor can't claim veterans' benefits.
No doubt this poster child for Generation Snowflake will try.
VA: The Press Worm Turns
The Press, which supported Dr David Shulkin when Barack Obama named him to the #2 position, has suddenly found all kinds of things wrong with him when Donald Trump moved him up to the #1 position. Sample of how they do it:
USA TODAY spent several hours with Shulkin during the past year, and previously unpublished material gathered during those interviews provides a glimpse of who he is, beyond the static statements, what he may or may not do at the VA, and how he compares to current VA Secretary Bob McDonald.
Trump was rumored to be considering several high-profile candidates for the job, but in the end chose to move Shulkin up rather than install an experienced politician or business leader. (Prior to joining VA, Shulkin was an internist and a hospital-chain leader).
The USA Today report did close on an up note, noting that when a whistleblower settled a suit with VA he got something unexpected in the settlement — a letter of commendation from Dr Shulkin.
Is It Time to Disband This Thing?
Writing in the Boston Herald, John Graham says yes. He points out the VA inefficiency and waste are nothing new:
In 1949, for example, a commission led by former President Herbert Hoover criticized VA plans to spend more than $1 billion on new hospitals — almost $10 billion in current dollars — while existing hospitals were underutilized and the Army and Navy also were building facilities.

After all, building VA hospitals is not a medical necessity; it's a jobs program, intended to curry favor with local members of Congress and assure the VA's place at the public trough.
The Veterans' Choice program is also a failure, not because other doctors and facilities aren't holding up their end of the log, but because the VA bureaucracy isn't, and it has stiffed enough of them that many won't participate:
Branded Veterans Choice, the bailout was camouflaged as a way of providing veterans with additional health care options outside the government bureaucracy.

In a practical sense, though, it does no such thing because many private providers won't see VA patients, knowing the agency doesn't pay its bills in full or on time.

Moreover, the private option is available only to veterans who live more than 40 miles from a VA facility or those who have waited more than 30 days for a VA appointment. Further, the private care is still largely coordinated by the VA, which in most cases handles scheduling of appointments and patient records.
Graham suggests that, instead of having a failing bureaucracy try to manage veterans' health, it would cost less and produce better outcomes, simply to pay the same physicians and facilities that handle everyone else's to do it.
Lord Love a Duck!
The weird and wonderful (or creepy) that we didn't otherwise get to.
This Guy Hates His Job
As Studs Terkel wrote, you can't do anything for eight hours a day, but work. This poor bastard.