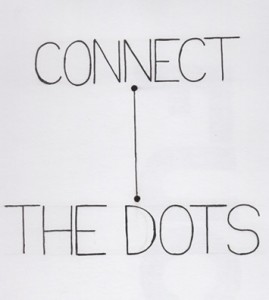 Let's get out a straight edge and connect some dots, shall we?
Here are our dots:
Sony Pictures Entertainment's groveling attempt to appease North Korea, by canceling the movie The Interview.
North Korean cyber attacks, to which Sony's and the US Government's responses have been identical in one important way: completely ineffective.
Over 140 people, mostly children, murdered by the Taliban in a school in Pakistan.
The USA's swap of 5 Taliban leaders for deserter Bowe Bergdahl.
The USA's swap of diplomatic recognition and five Cuban spies and criminals, including a multiple murderer, for an American aid worker taken hostage in Cuba.
Repeated attempts to pay ISIL and the Taliban cash ransoms for American and allied hostages.
Russian neo-Soviet saber rattling and aggression, even as their economy totters.
Years of groveling and submission to Russia on ballistic missile defense and our own relations with such allies as the former Soviet slave states Poland, Hungary, and the Czech Republic, among others.
Iranian progress on nuclear armament.
Years of negotiation that takes the form of Foggy Bottom FSOs wringing their hands and begging on behalf of the USA.
You may connect them any way you like, but what we see are repeated attempts to pay Danegeld, and the results that go with appeasement from time immemorial, which Kipling explained thus:
It is always a temptation for a rich and lazy nation,
To puff and look important and to say: —
"Though we know we should defeat you, we have not the time to meet you.
We will therefore pay you cash to go away."

And that is called paying the Dane-geld;
But we've proved it again and again,
That if once you have paid him the Dane-geld
You never get rid of the Dane.
Kipling wraps his poem up in this manner:
So when you are requested to pay up or be molested,
You will find it better policy to say: —

"We never pay any-one Dane-geld,
No matter how trifling the cost;
For the end of that game is oppression and shame,
And the nation that pays it is lost!"
He is, of course, writing before both of the cataclysmic wars of the 20th Century1, and almost 30 years before Prime Minister Neville Chamberlain would fail to take his counsel, with results well recorded by history.
Exercise for the reader: when Chechen islamists blew up airliners, took hostages in Moscow, suicide-bombed the Stalingrad train station, did Vladimir Vladimirovich:
Seek to understand the root causes of their social alienation?
Convene a blue-ribbon Presidential Commission on the Chechen Question?
Work within the system to address their grievances and integrate their values into society?
Send hard men to blow them to hell and gone?
This is one of the tests that's like the great Test of Life: it's an IQ test, and it's not graded on a curve.
Notes
1. Dane-Geld is from CRL Fletcher's A History of England, a 1911 children's book of history "illustrated" by a collection of historical poems by Kipling running chronologically from prehistoric to modern days, each assigned a date or a date range. (Dane-Geld is so "dated" A.D. 980-1016 in poetry anthologies, but did not have a dateline in Fletcher's book).