In some parts of the government, like the FCC and the IRS, morale is soaring. They've never had more power to drive us before them and hear the lamentations of their women. And then, there's the parts that defend America from enemies foreign and domestic. We've already covered how the Army's morale is under the outhouse, and from time to time we've mentioned organizations like ICE, CBP, and in fact all of DHS, where workers are squeezed between an important mission and abominable leaders who are deeply committed to giving the mission lip service — and lip service only.
That's how you get things like the 2014 Federal Employee Viewpoint Survey (FEVS), conducted by the Office of Personnel Management, which puts DHS in the very caboose of the civilian employee morale train, a place that DHS has practically had a lock on since its establishment just over a decade back. As Kelley Beaucar Vlahos reported at Fox:
Based on overall positive responses by its employees, DHS got a 44 percent score, the lowest since it was established following the 9/11 attacks. Putting that into context, the cabinet agency with the highest ranking in 2014 was NASA, and it got 74 percent.

That DHS has gotten consistently bad scores from its own employees based on morale, leadership, compensation and more, was of particularly interest in Thursday's "Worst Places to Work in the Federal Government" hearing by the Government Operations Subcommittee headed by Chairman Rep. Mark Meadows, R-N.C.

"The Department of Homeland Security rests as the worst place to work among cabinet agencies, and saw its scores drop by nearly three points from 2013," he pointed out in his opening statement. It scored lowest on leadership, fairness, empowerment and skills to match the mission, he pointed out.

"Are agency leaders doing enough?" he said. The results, he answered himself, "suggest that not enough has been done."
Of course, DHS is just the bottom of the heap, it's not all alone down there. The DVA and the Department of the Army are also in the low numbers, along with the Nuclear Defense Facilities Safety Board, all agencies that have been punitively deprioritized since 2009.
While DHS itself scored a lowest-of-large-agencies 44 percent, some of its sub-agencies scored even lower:
Among the 314 agency subcomponents ranked in the survey, two DHS departments come in dead last: ICE (35 percent) and the Office of the Under Secretary for Science and Technology (35 percent). The Transportation Security Administration did a little better with 39 percent.
Jeh Johnson has the Solution
The Homeland Security head, widely seen as a man who has ridden affirmative-action preferment far beyond his optimum level of incompetence, didn't testify at the Congressional hearing — he was there, but he had a flunky, Catherine Emerson, DHS's Chief Human Capital Officer, read a prepared statement and stumble over questions for him.
Prior to the hearing, Johnson explained that the problem wasn't his men having low morale, it was things like the survey and the hearing telling the agents that their morale was for $#!+. If he could just get the Congress to stop hearings, and the press to stop reporting unhappy agents, why, all would be rosy in his world. Per Federal News Radio (which, yes, is really a think in the Beltway, where nobody works but everybody reports to a government job, usually one interfering with the guys and gals in the field who do government's actual work):
DHS' morale problems also have been duly noted by the department's leader, but he suggested that he was sick of hearing about them from outside sources.

"One of the ways that you improve morale is to stop continually telling my workforce that you have lousy morale," Secretary Jeh Johnson said he told committee members in a meeting before the hearing began.
That, and his unicorn.
(Actually, one of the ways that you improve morale is to stop continually saddling his workforce with crappy leadership).
It's unlikely a leader like Johnson, himself the product of a tee-ball entitlement culture, could improve a poisoned command climate whatever he did, but what he's actually doing is a top-down headquarters initiative that has, not a low probability but a  zero probability of improving the embattled department:
DHS has embarked on a … campaign, which it calls the "Building-The-Department-You-Deserve" initiative, Emerson said. It has revived an awards program for employees that was dormant for six years. It is also making the hiring process more transparent, because employees have requested it. That includes posting notices in more prominent locations and training hiring managers, she said. In addition, the agency is focused on improving its Senior Executive Service corps, with which Johnson has met twice.
There's a lot of verbiage about process there, and not one word about measurable, quantifiable results. But that's how the beltway game is played.
And the morale problem is not in the overpaid, underworked SES corps, the only part of the agency that Jeh Heh Heh seems to have any affinity for. The best thing DHS could do with its SES corps is to send them all back to FLETC and, in the unlikely event that any of them pass, put them on the street as GS-9 1811 investigators to learn the job and people skills that a champagne diet seems to have flushed from their braincases.
One last note: The Veterans subgroup of the FEMS survey population were considerably more cynical about the probability of the survey achieving anything. Wonder if vets are overrepresented in DHS, too?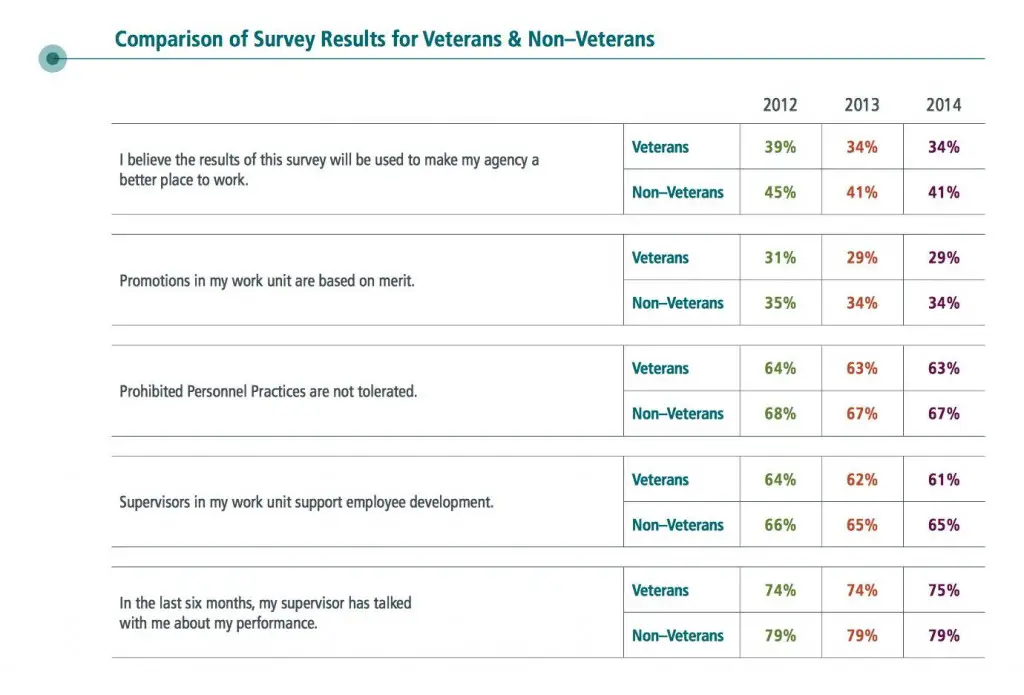 Or maybe they just got infected with cynicism and low morale serving under BG Peggy Combs in the Army?