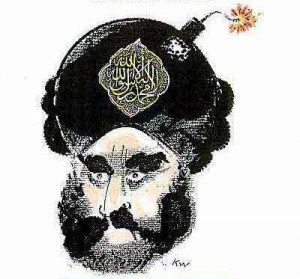 Another murderous Mohammedan migrant attempted the 6th and primary Pillar of Islam at the Ohio State University in Columbus this week. It made an initial splash in the news, and then was quickly hustled off the front pages and out of the 24-hour cable cycle, for Narrative™ violations.
The chain of events went something like this:
Somali "refugee" goes a-jihad with car and machete.
Cops ventilate him. (Good).
Media fake-newses "active shooter event."
Moms Demand etc. call for gun bans, and mourn the shot jihadi. (Remember when they mourned Tamerlan Tsarnaev?)  https://twitter.com/shannonrwatts/status/803272416428429312
The Jihadi's ID and motive were close-held by the media, but leaked, inevitably.
He posted his desire to "kill a billion infidels" on Facebook.
https://twitter.com/pspoole/status/803418811194019840
Fallback media position: his motive is unknown.
School paper hailed his diversity, back before he was an attempted murderer.
The college administration still praises him, and calls for the mourning of his death (to Hell with the others he attacked; his was a Black Criminals' Lives Matter life).
https://twitter.com/WDFx2EU16/status/803391745710919680
Now everyone is supposed to pretend that such things as OSU being a Gun Free Zone, OSU supporting his Jihad Quest (because Diversity is Our Vibrancy™), and Columbus being a Sanctuary City for criminal aliens, all didn't matter.
But wait, it just keeps getting better. Here, the Washington Post notes that the soi-disant Islamic State, an organization that no lesser authority on Islam than B. Hussein Obama has said is "not islamic," has claimed the would-be murderer as a "soldier," which doesn't mean the same thing in mohammedan circles than it does to actual, you know, soldiers.
The Moslem terrorist community "fears backlash" after their latest fang-plant in the hand that feeds them. Narodniy Politicheskiy Radio has another Somali "refugee" named Mohamed at OSU, who is bothered by the terror attack:
My stomach did fall….Not just because of what happened today, but because of what will happen tomorrow.
Yep, it doesn't bug him at all what his guys do to the kufr, but it bugs him that the kufr might just be on to them.
And Think Progress condemns the OSU attack because… wait for it… it
raised tension in an American community already facing demonization….left them in a vulnerable state
And, also, because Trump. Because everything is his fault now. The Think Progress article closes with a threat:
We came here to practice our religion.
Well, that's what this barbarian just did, and we've had enough of your murderous mohammedanism.
Terrorist co-conspirator CAIR said some people would:
…falsely link this tragic incident to the faith of Islam and the Muslim communities…
Yeah, that'd be us. And everyone else who can fog a mirror. Except for the "falsely" bit. (Remember the CAIR scam that collected money "for victims of terrorism" after 9/11… and used it to reward the survivors of Hamas suicide bombers? They're hoping you don't).
And Rob Wells of ABC News headlined his concern trolling:
Somali, Muslim communities fear faith-based vengeance after OSU campus attack.
A gun-control activist at Yahoo News, one Caitlin Dixon, meanwhile, belatedly admitted that the attacker didn't use a gun, but because she and other media fabricators initially reported that he did, it was time to "look at Ohio gun laws." True, although not the way she means; Ohio is late on the campus carry and constitutional carry trains.
Finally, to put a perfect cap on things, let's juxtapose two messages. Lame Duck President Barack Obama, via misnamed spokesman Josh Earnest:
Our response to this situation matters. If we respond to this situation by casting aspersions on millions of people that adhere to a particular religion or if we increase our suspicion of people who practice a particular religion, we are more likely going to contribute to acts of violence than we are to prevent them.
Translation: We're doubling down on ignoring Islamic terrorism.
Juxtapose the terrorist's message, on his Facebook page:
By Allah, we will not let you sleep unless you give peace to the Muslims. You will not celebrate or enjoy any holiday. Btw, every single Muslim who disapproves of my actions is a sleeper cell, waiting for a signal. I am warning you Oh America.
Yeah, well, America lives and you're as dead as Mohammed, kid.
A Breitbart reporter asked if the President had found time to call the campus cop, Alan Horujko, who ended the terrorist's spree at about the one-minute mark, with a couple of well-placed pistol rounds. Earnest dissembled, but ultimately admitted the answer was, "No." Why would he? Horujko is on one side, with the victims, and the President's on the other, with the terrorist.