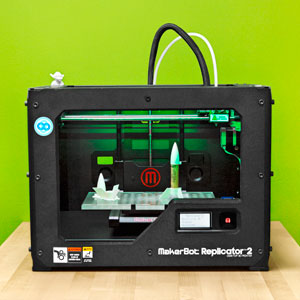 Both of these views have been hanging out there since January, but we're just getting to them now.
First, the pro view. It's "pro" in that it's "in favor of," but it's also by an industry professional, Peter Zelinski, so it's "pro" that way, too.
What will manufacturing look like once additive manufacturing is in more widespread use? DiSanto Technology, subject of this article, offers clues. 3D printing of metal components now accounts for a notable share of this firm's production. If manufacturing in general is on its way to adopting additive processes to a similar extent, then the differences we see at DiSanto, along with other adopters of additive manufacturing for end-use parts, are suggestive of the shift we are likely to see in the very nature of part production.

How will manufacturing look different once additive production has matured? Here are some of the ways:

Fewer employees.
Office-like plants.
Simple machining.
Easy onshore/offshore.
Super JIT.
Super unattended.
Tooling just for high volumes.
Note that these are just about how manufacturing will change, not how products will change; that's a whole other rodeo. We remain excited about this technology, and can see literally thousands of applications, including applications to firearms engineering, manufacturing, and repair.
Zielinski posits a world where manufacturing has been changed radically by additive manufacturing technology. So does the con view, delivered by lapsed physician turned camera-chasing celebrity Rachel Armstrong, who emotes that "3D Printing will destroy the world!" in Architectural Review. The difference is that we want to live in his world, and Armstrong emphatically does not.
If 3-D printing does not fully take on this responsibility then the sustainability of our current highly 'customised' objects is likely to be under scrutiny, as the unit cost of printers falls and hobbyists make legions of white elephants out of toxic plastics and when our landfills are chock-a-block with yesterday's badly made fashionable shapes.
Armstrong is, of course, at the other end of the spectrum from "industry pro," and her Luddism seems to be a blend of Stuff White People Like and just plain snobbery. She complains about "pointless plastic products," and "plastics, compounds that do not do well in ecosystems," and "covert continents of particulate plastics," indicating not much except that she does like alliteration very much, and dislikes plastics even more.
The ever-trendy, ever-buzzword-ready Armstrong makes an unsupported assertion that additive manufacturing will somehow contribute to that bugbear of the moment, "Climate Change." And she argues that 3D printing is not a revolution unless it can "solve" that, which she defines as, "the fundamental issue of 21st-century materiality." Materiality? Buzzword ahoy!
She hasn't looked deeply into the processes or materials if she thinks it's all plastic, and all nonrecyclable. But her real beef seems to be with allowing nonprofessionals the ability to design and make their own stuff, which offends her amour-propre as a spokesperson for the professionals (regardless of her training being in another profession entirely. If you're on TV, your expertise is infinitely fungible).
In the end, it's a birdbath-shallow analysis given the illusion of depth by carelessly-strewn neologisms. The fundamental point of Armstrong's harangue, besides her usual main point which is promote the ego that is Rachel Armstrong, seems to be that people shouldn't be allowed to 3D print without Rachel Armstrong's approval. 
Scratch a soi-disant "thought leader," find another boring fascist.