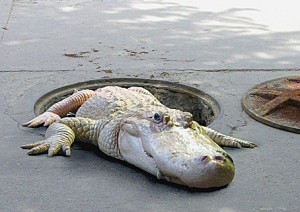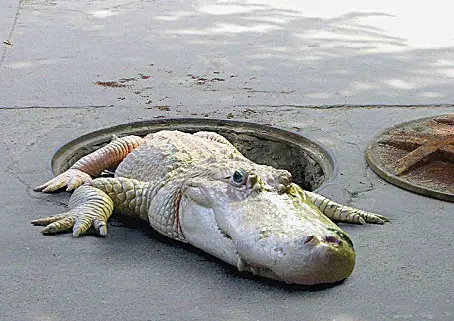 OK, it was a prank, not at attack. In universities across the land, anthropologists and ethologists who study the strange throwback known as Florida Man have a new data point:
Officials said 23-year-old Joshua James pulled up to the drive-thru for his order. After a server handed over a drink and turned around, James reportedly reached into the back of his truck and tossed the 3.5-foot gator through the window.

James is facing charges of aggravated assault and unlawful possession and transportation of an alligator.
Sounds like the prosecutor is a Seminoles fan. (For non-USians, Gators and 'Noles are a Florida college football — American football, and yes, we use our hands — rivalry).
His parents said the incident was a harmless prank and it's being blown out of proportion. "He's not a bad kid. He's a stupid kid. He did a stupid prank," said Linda James, Joshua's mother. "He had no problem turning himself in."
via Man Throws Live Gator Into Drive-Thru Window | NBC 6 South Florida.
This happened a few miles from the Winter Hog Wallow, and we know where this Wendy's is, but have never gone there. (Not big on fast food, and there's literally thousands of good restaurants and mom-n-pops around. Some of which serve gator) We've heard some other news outlets said James was charged with assault with a deadly weapon… we think the gator needs to grow some before he's a deadly weapon, and it's too late to get a witness statement from him, as animal control has already returned him to his aquatic environment.